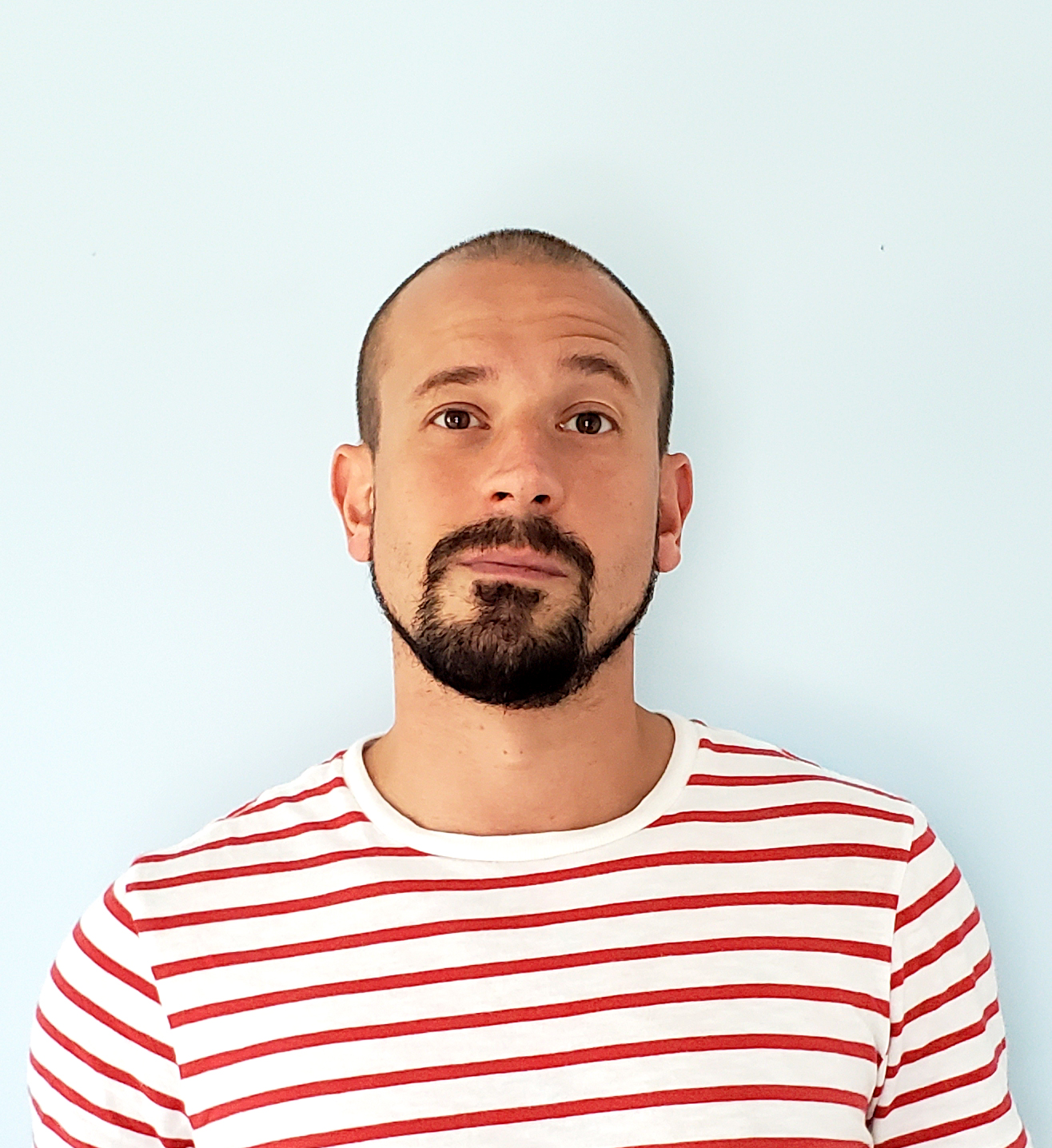 Cook Book
Research + UX/UI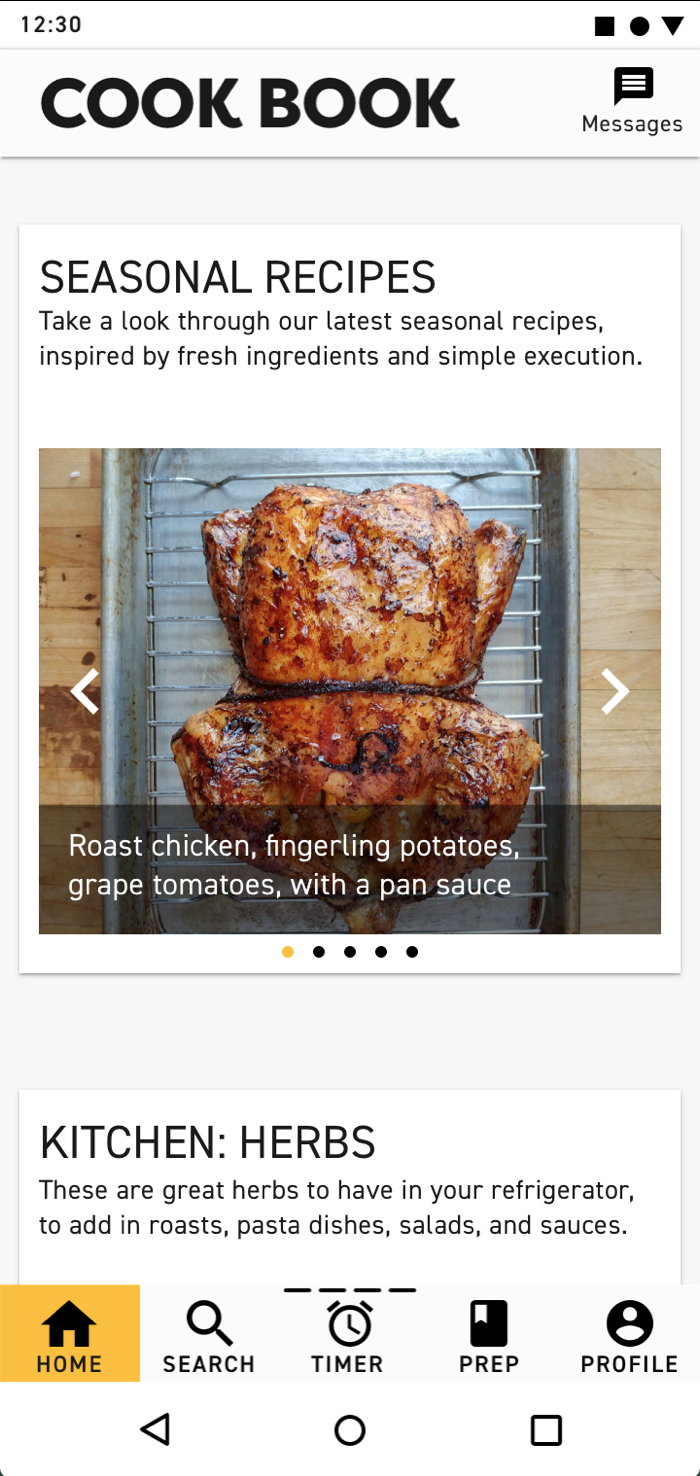 Problem
Prior to Covid-19, many Americans were spending less time at home cooking, and more time eating out at restaurants. People often feel like they don't have the time or patience to learn how to cook, which can be disempowering and detrimental to their health and well-being.
Solution
I took a user-centered design approach to create a product that empowers home cooks to make the food they want to eat, and to help them discover new and healthy recipes.
My Role
I worked on market research, user research, as well as designing the UX and UI for all iterations of the Android mobile product.
Research: Home Cooking
Pre-Pandemic
I utilized secondary research as a foundation for creating the framework that reflects home cooks in America today. Spending patterns on food, cooking development skills, and the knowledge of food across recent generations were areas I looked into first.
Spending More
on Takeaway
Millennials are spending more on meal replacements than food that needs to be prepped at home.
Learn at a
Younger Age
Learned food and cooking skills at a young age creates positive quality of life habits throughout their life.
Gen-Y Ripe for
Cooking Tips
Basic food ingredient and kitchen tool identification, unit conversion, and technical skill are lacking amongst Millennials.
Research: Home Cooking
Post-Pandemic
Since the coronavirus pandemic, sheltering in place has "encouraged" us to spend more time in our kitchens. This time at home as seen a dramatic increase in home cooking both in practice and in enjoyment from learning new recipes and foods. The research here points to show that many have now come to enjoy cooking and the benefits it has brought to their life.
54%
of people are cooking more.
46%
of people are baking more.
50%
of people are more confident at cooking/baking
35%
enjoy cooking now more than ever
Persona
Maxine Fisher
From my research, one persona type emerged from the data I collected. Maxine is a 28-year old living in a metropolitan area. She has no specific diet, but is health conscious and is aware of health foods by name. She is connected to major brands such as GrubHub, Bon Appetit, and Google, carries her smartphone with her wherever she goes, and loves to take care of herself and her friends through warm hospitality.
Common goals: to better understand food and the cooking process


Common motivation: discovering new flavors and combinations when cooking


Common behaviors: goal oriented, varied diet types, curious about new foods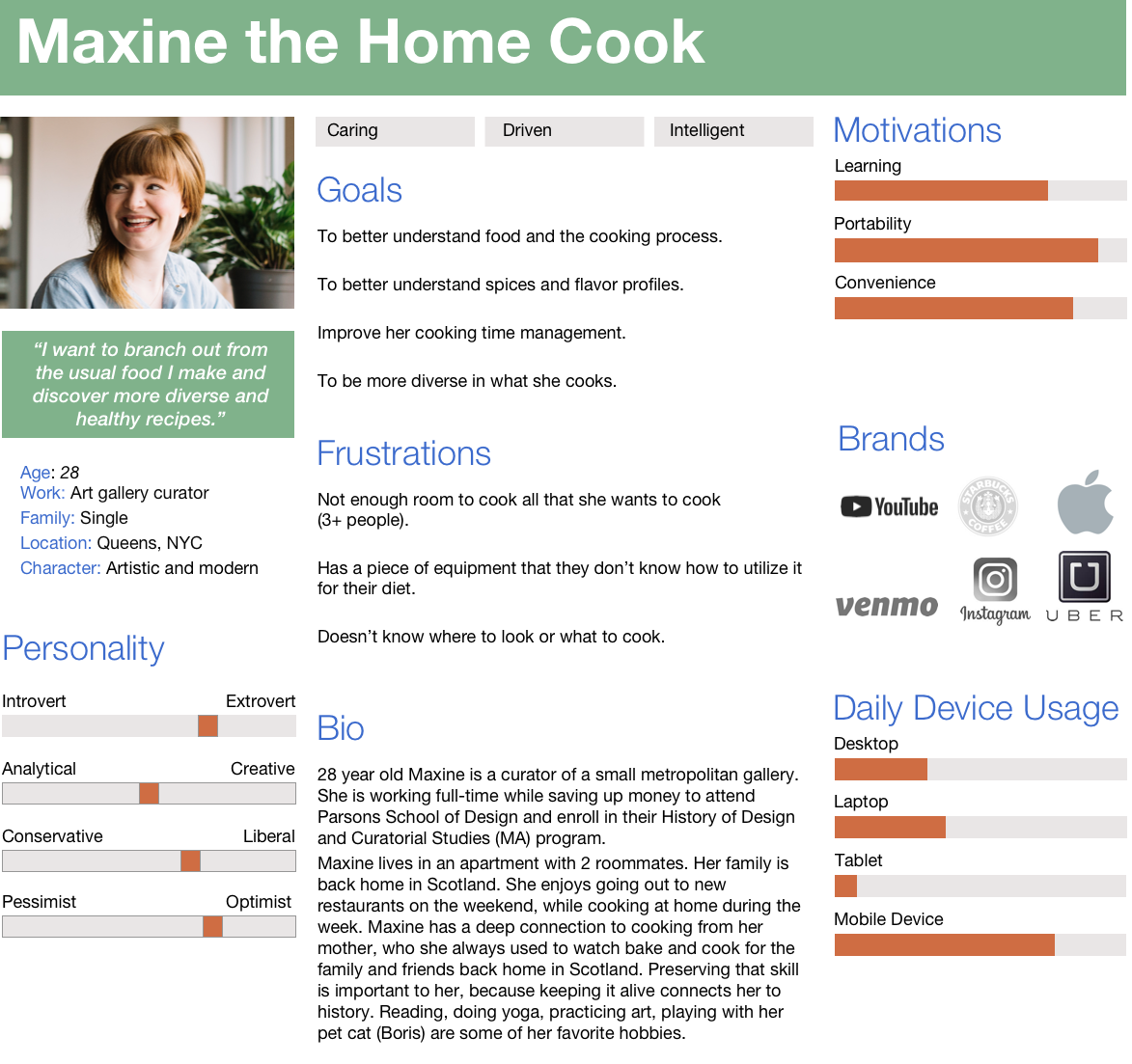 Sketches + Lo-Fi Prototype
Click here to try the Prototype
I usually start the design process with low fidelity wireframes. This is the way I iterate through many design options quickly.
For my designs, I wanted the users to think less about learning and navigating a new UI and spend more using the app as a process tool.
The key areas I focused on were:
Search for recipes, articles, how-to guides

Save and sort found recipes, articles, or how-to guides for reference

Encourage user learning and skill engagement

Set one or multiple timers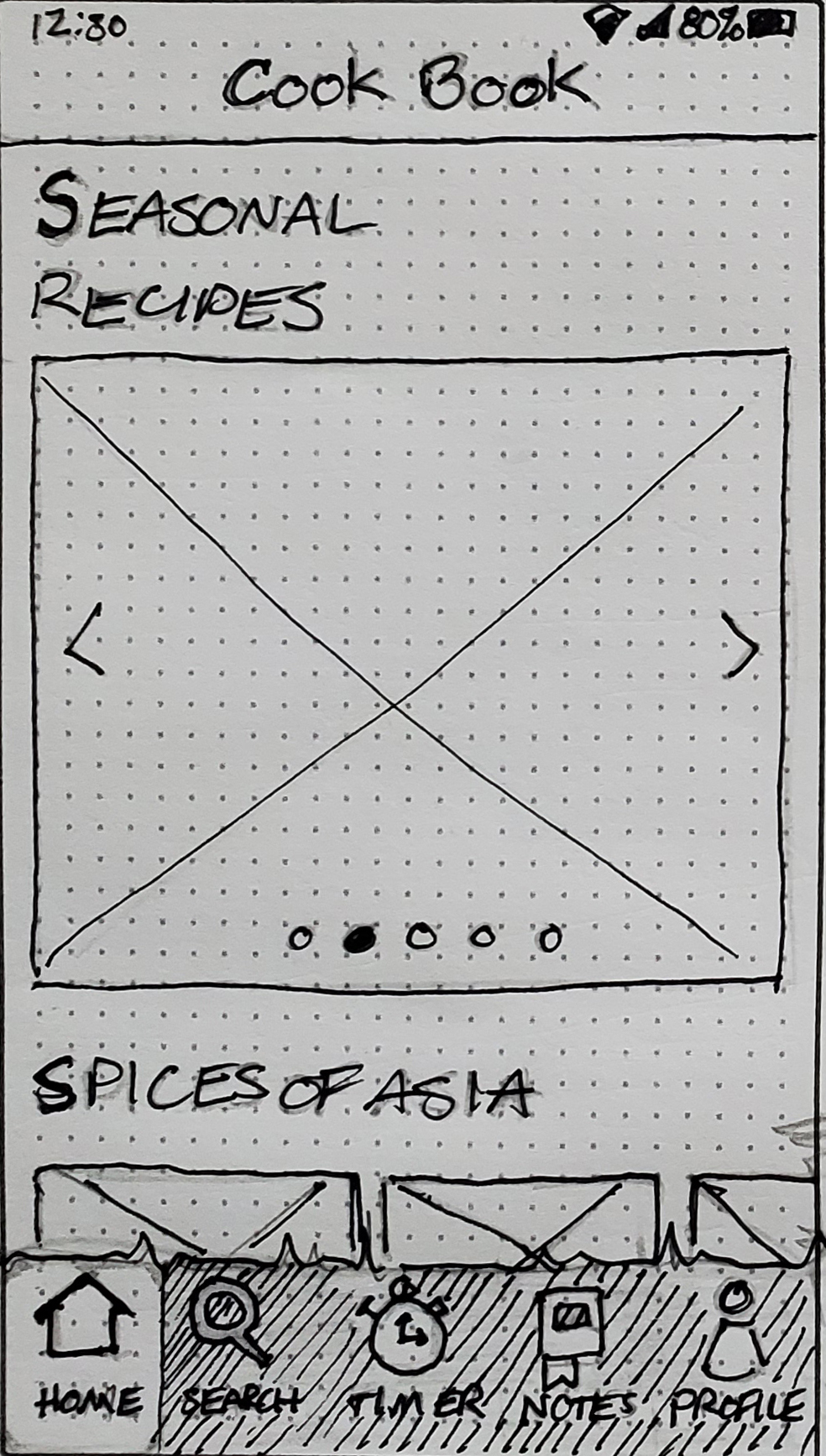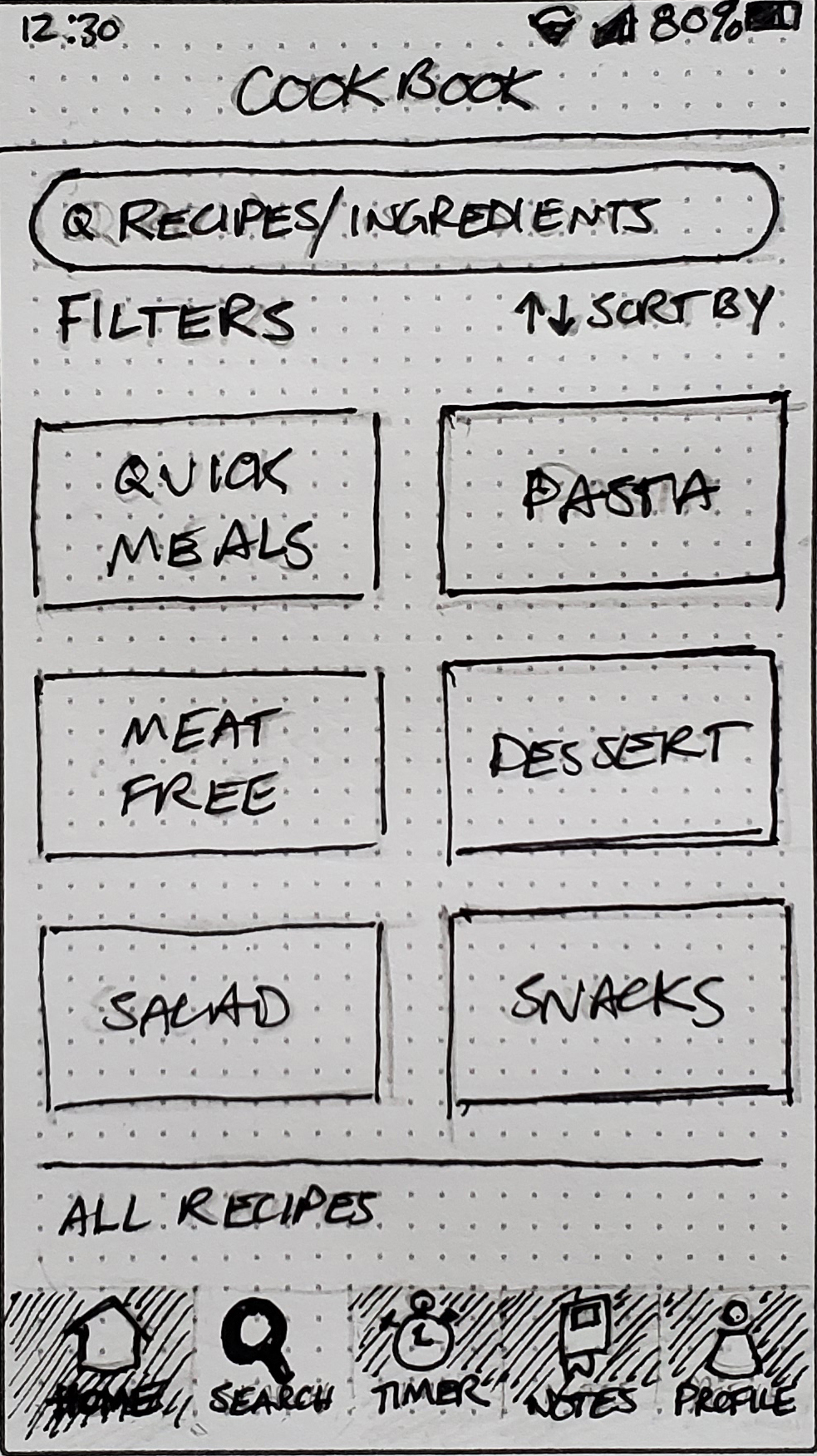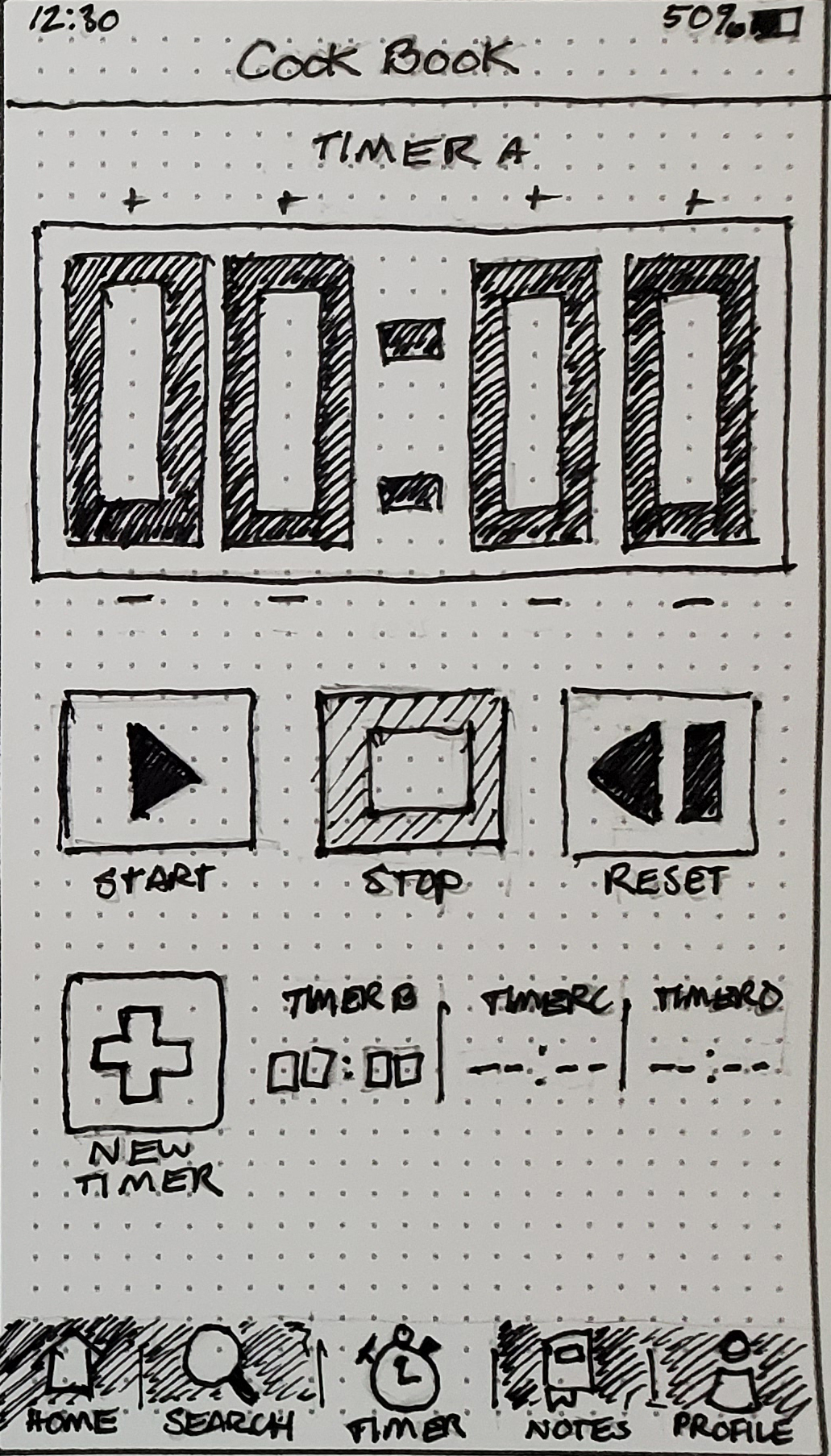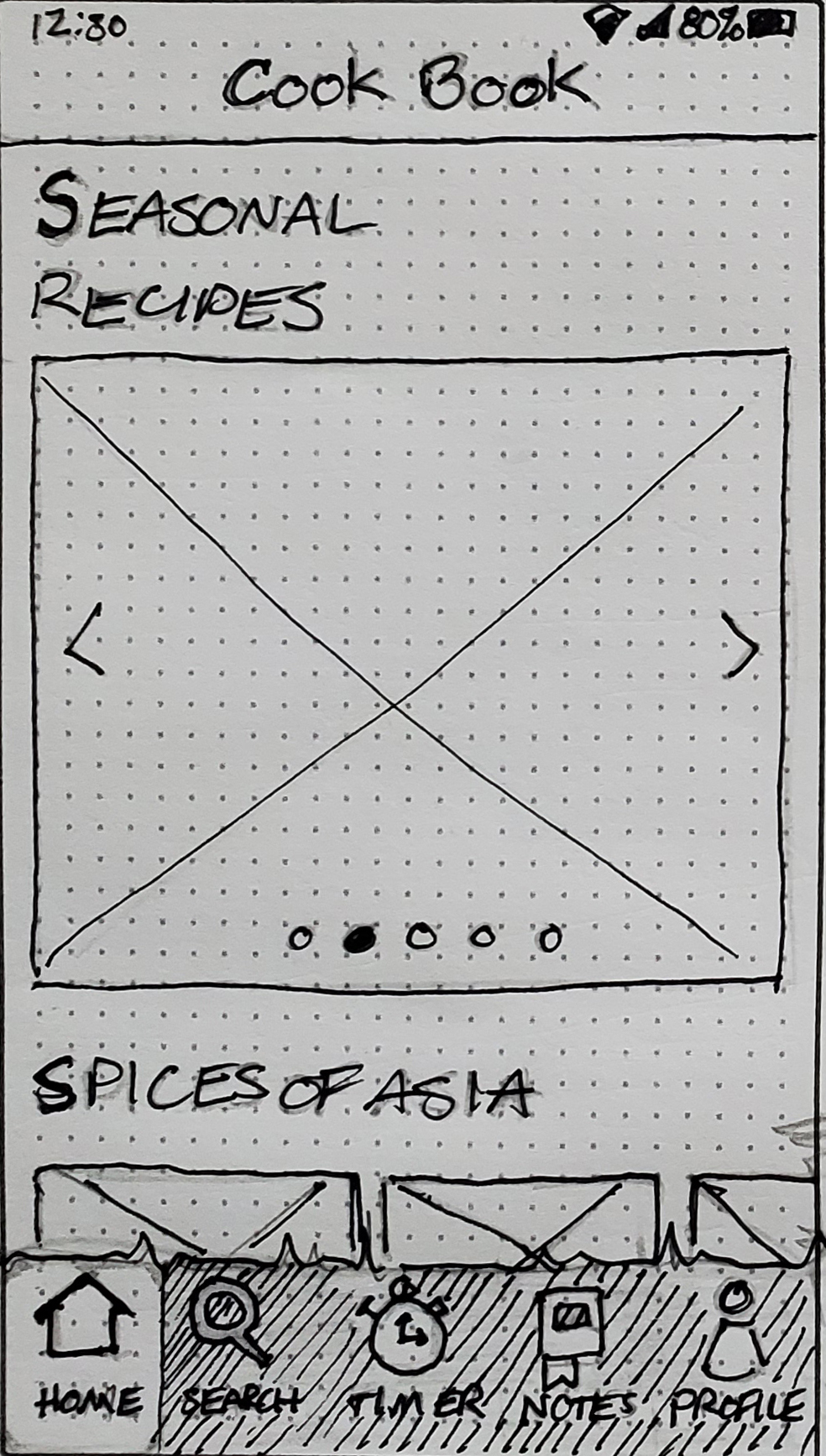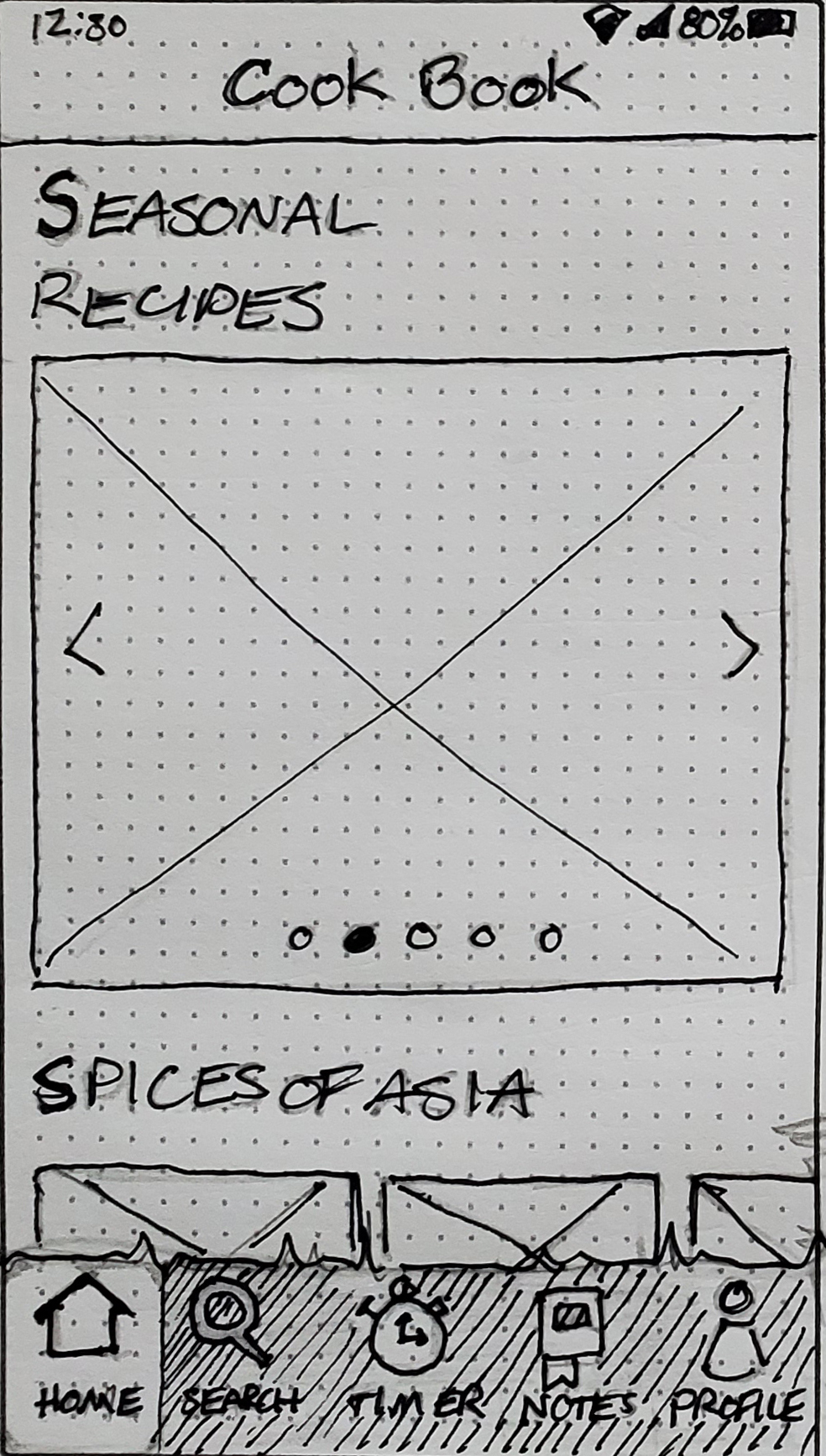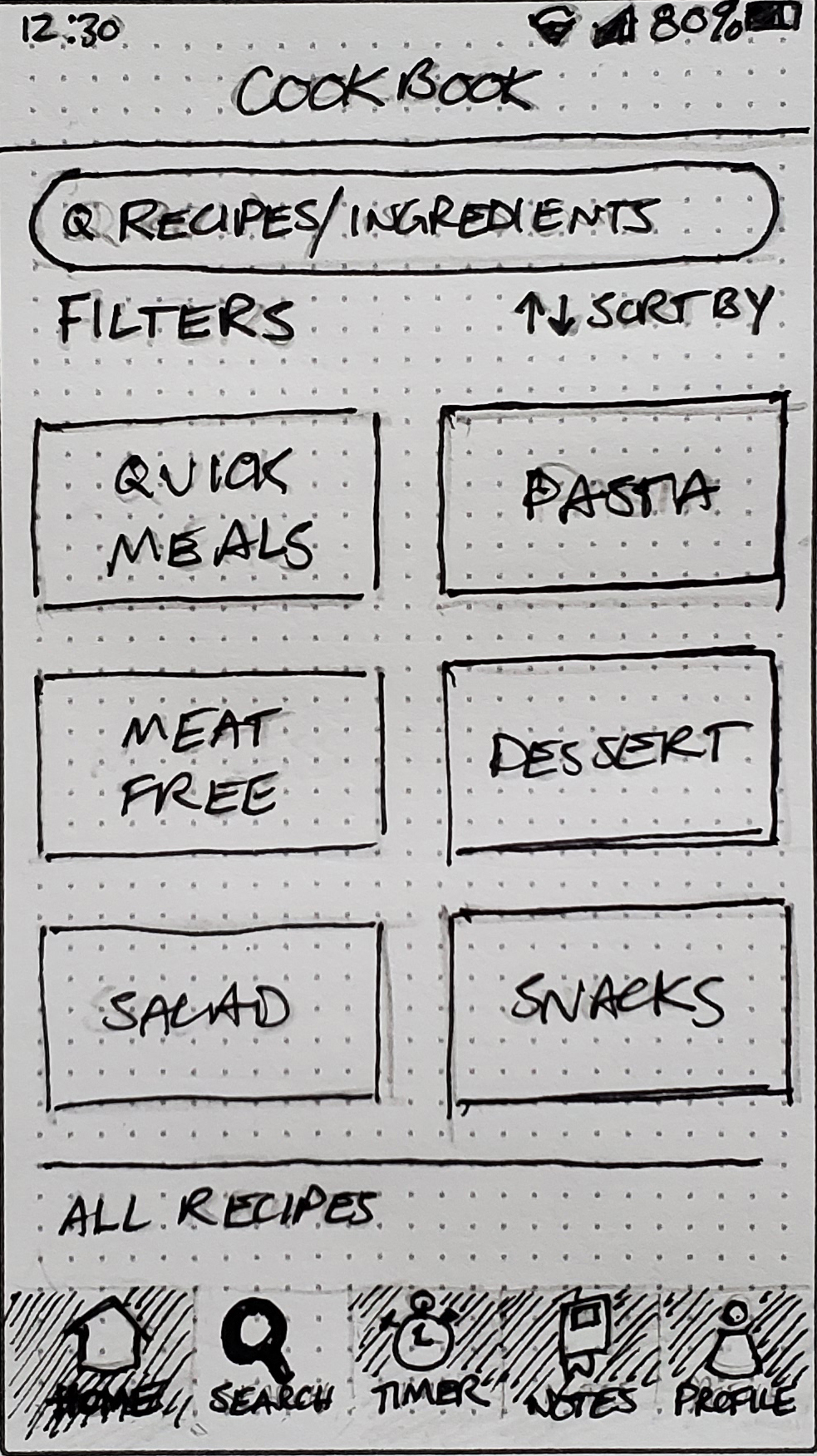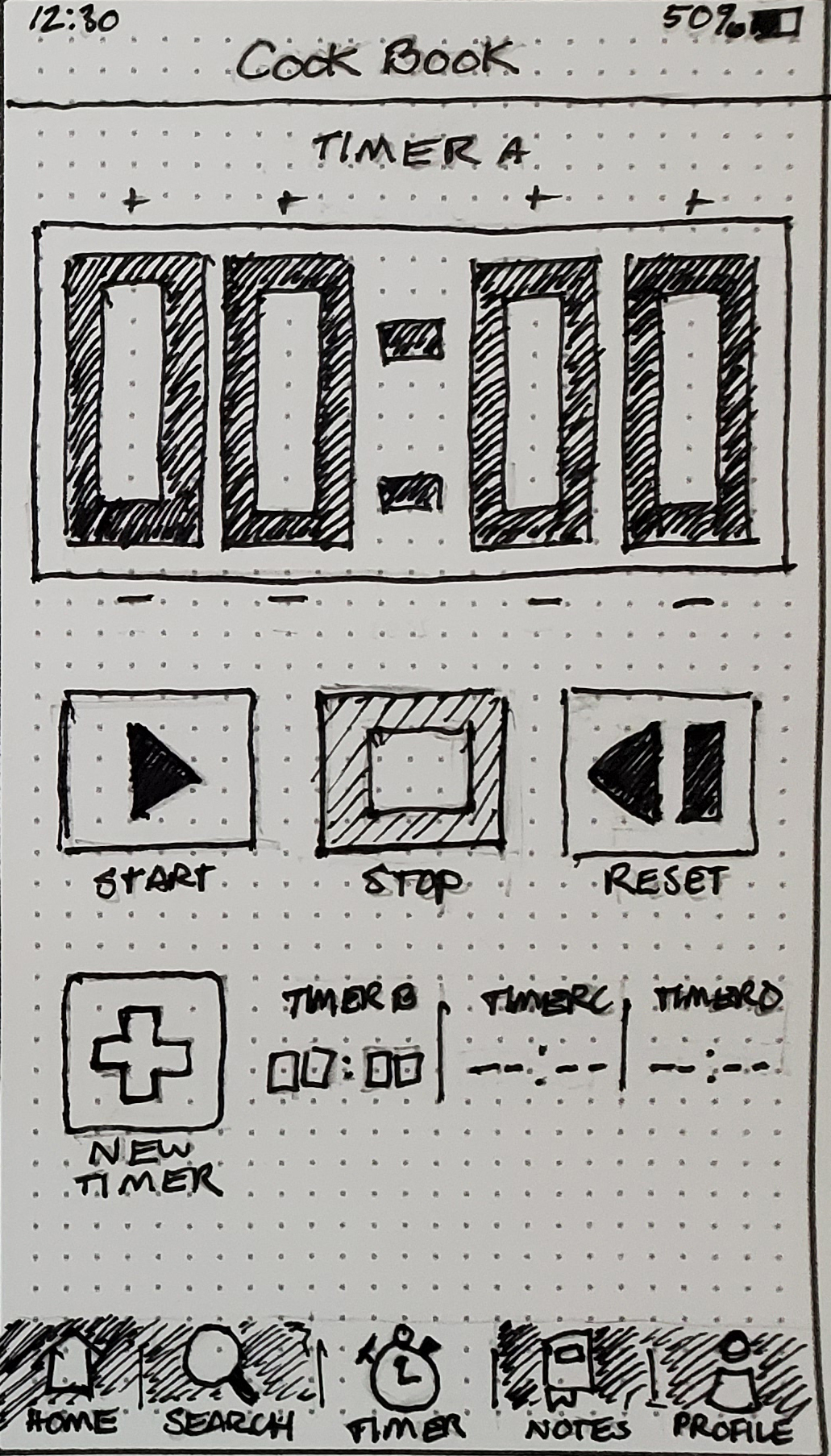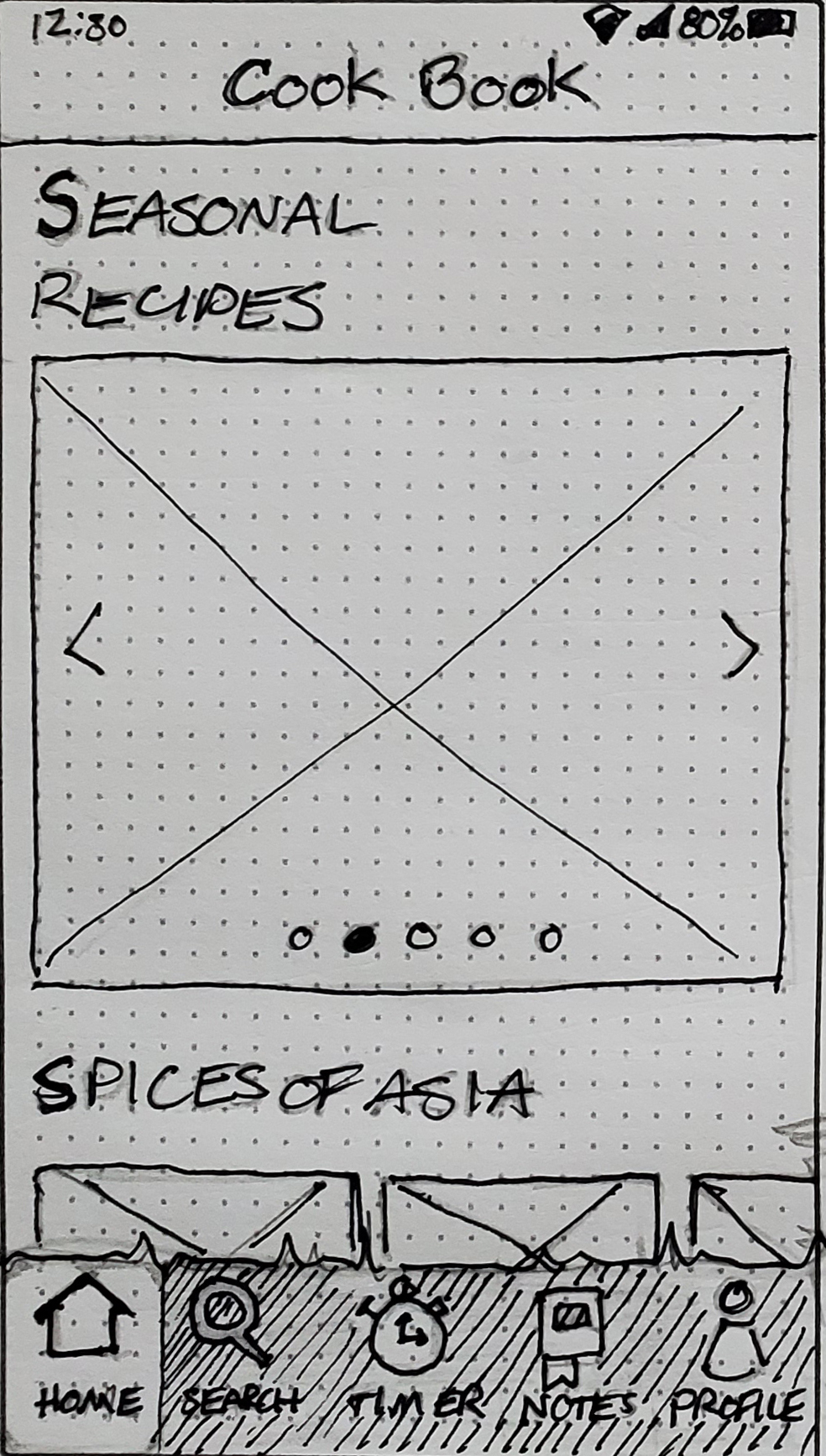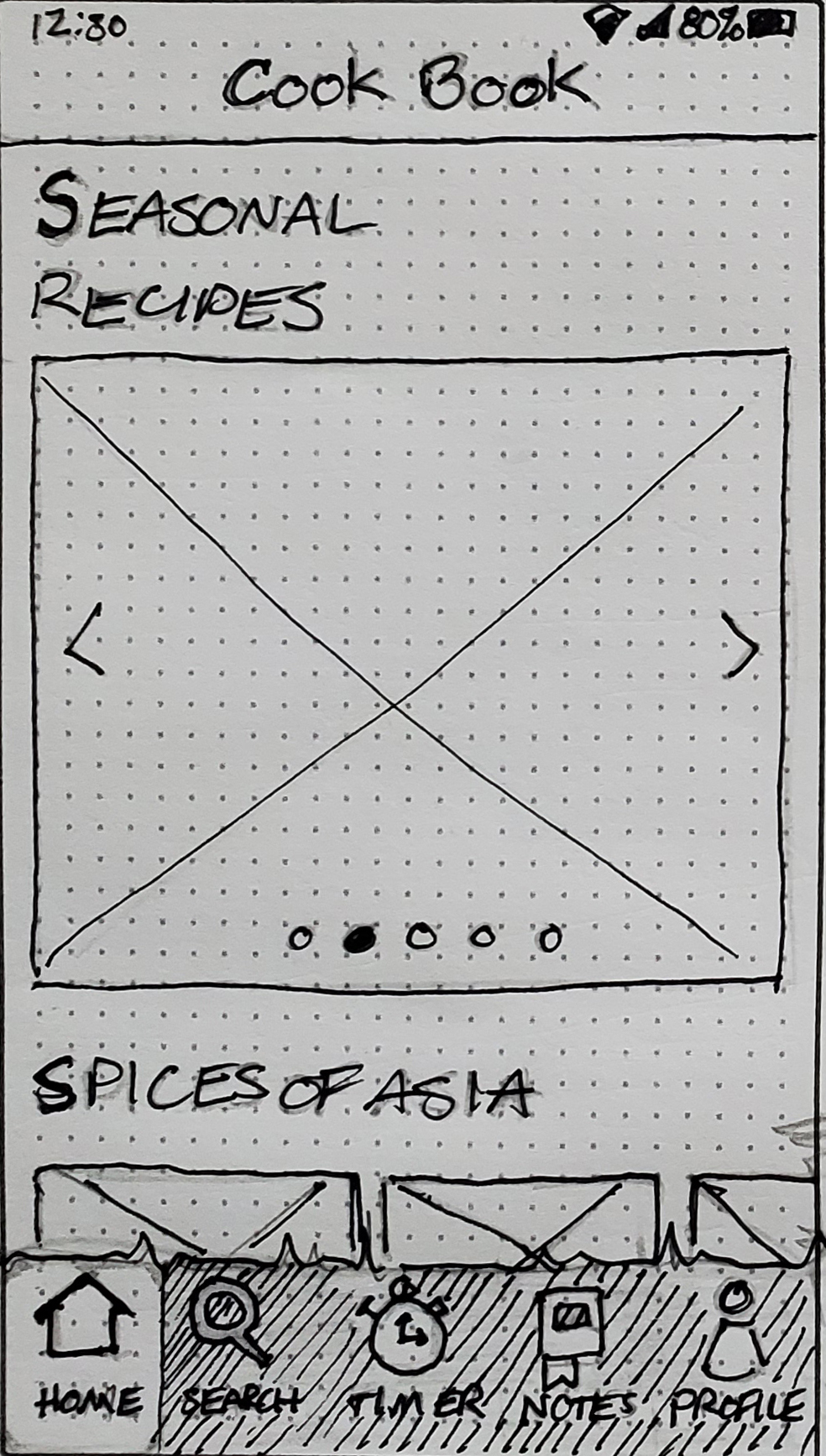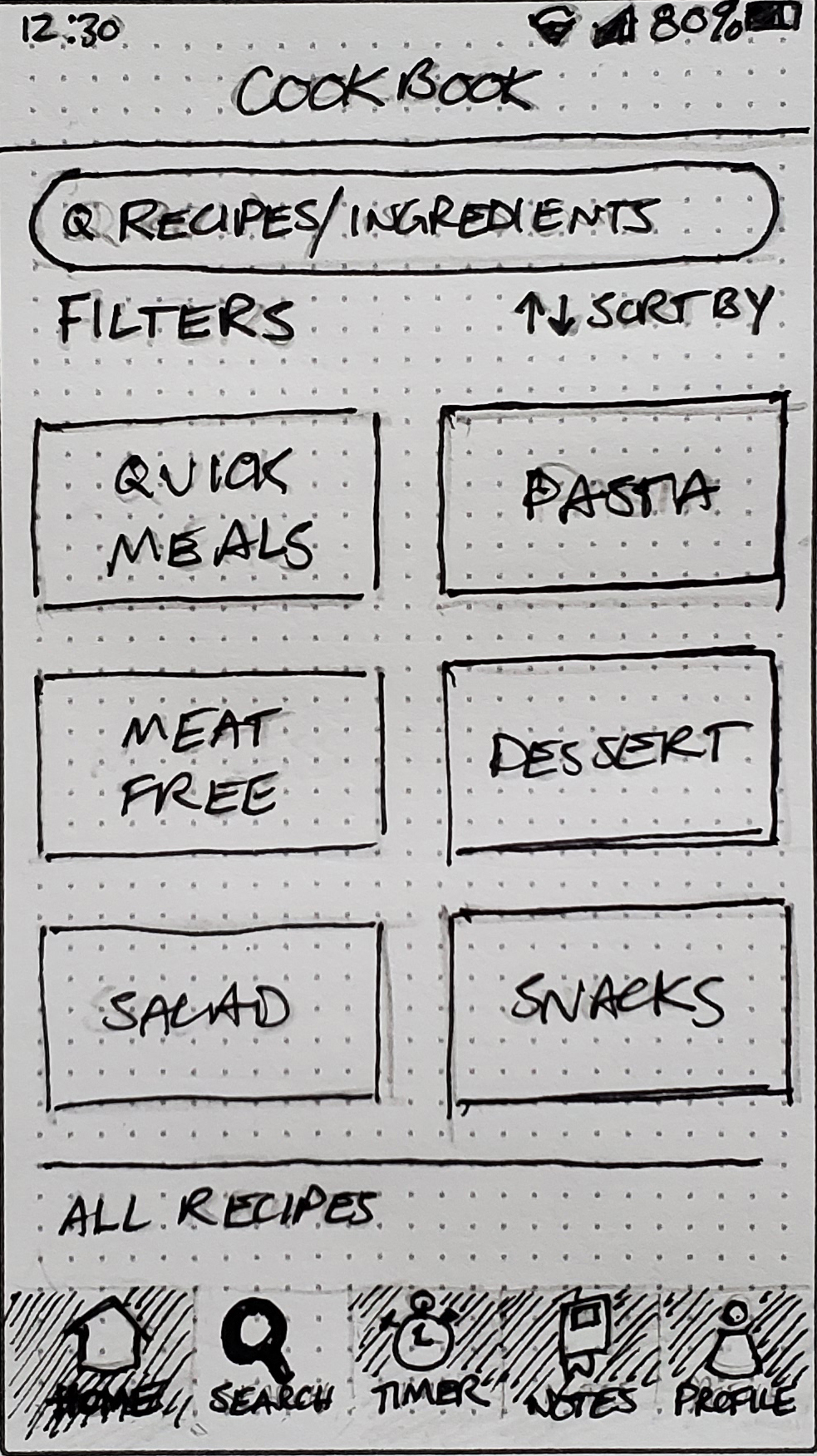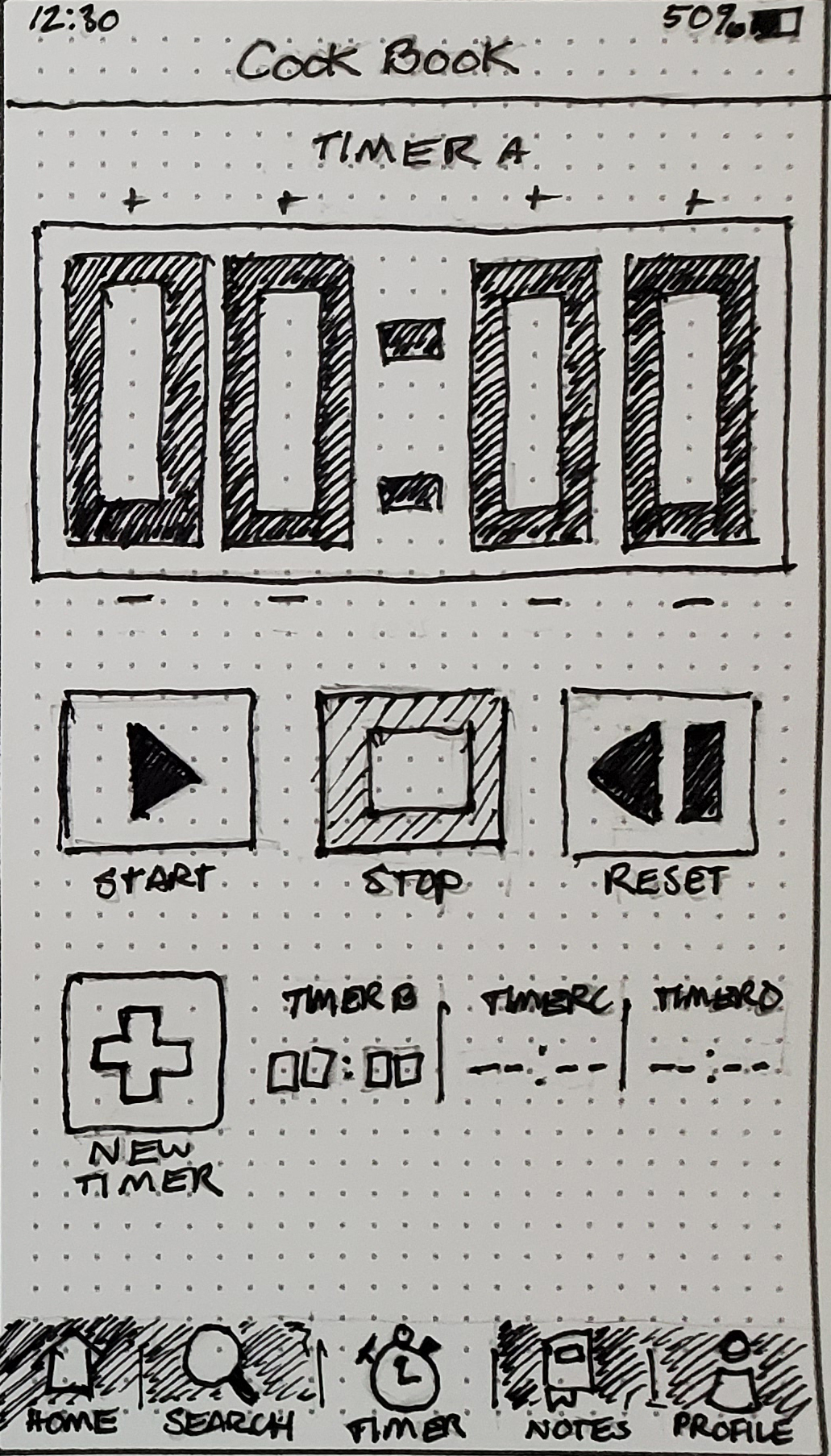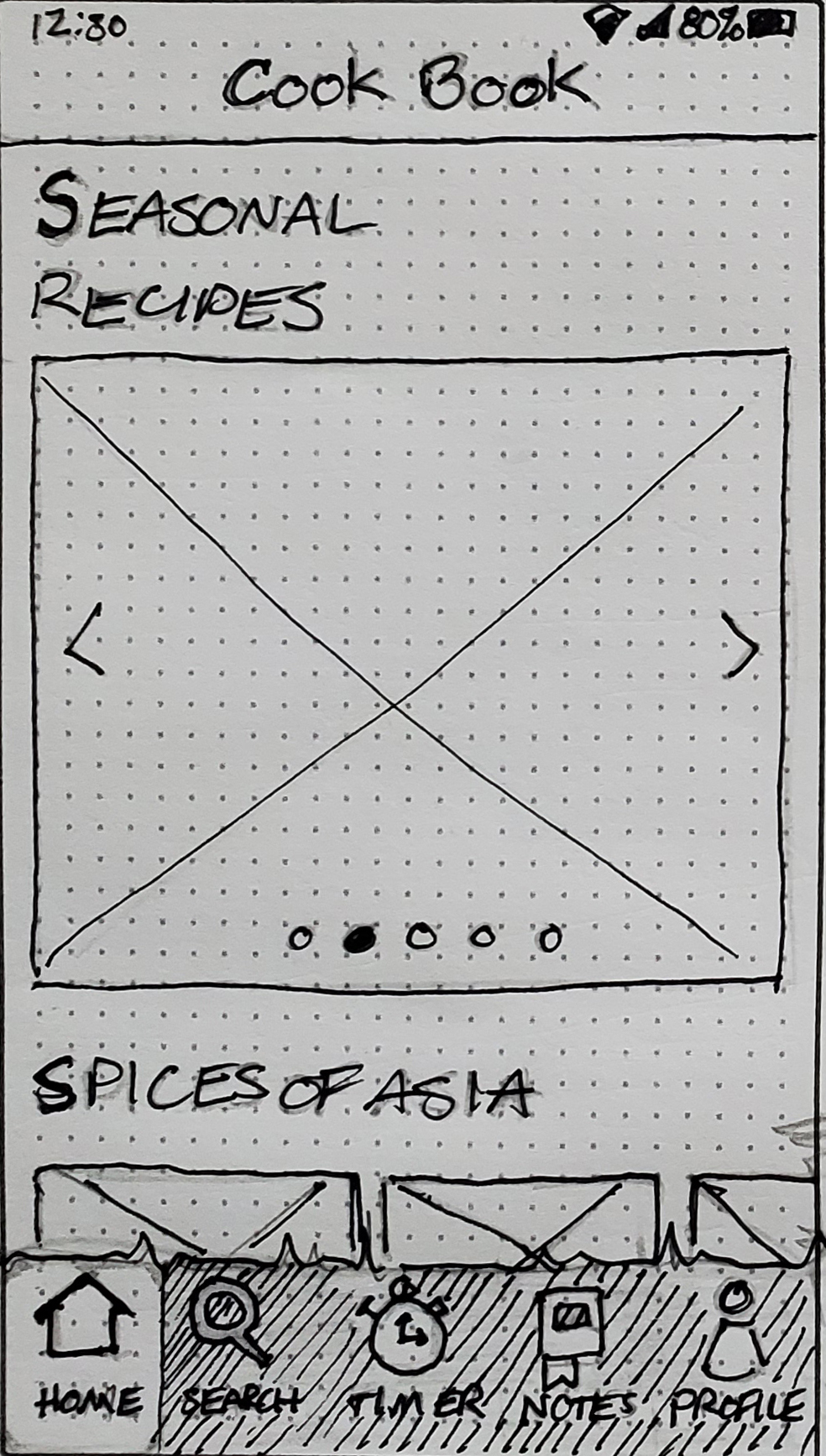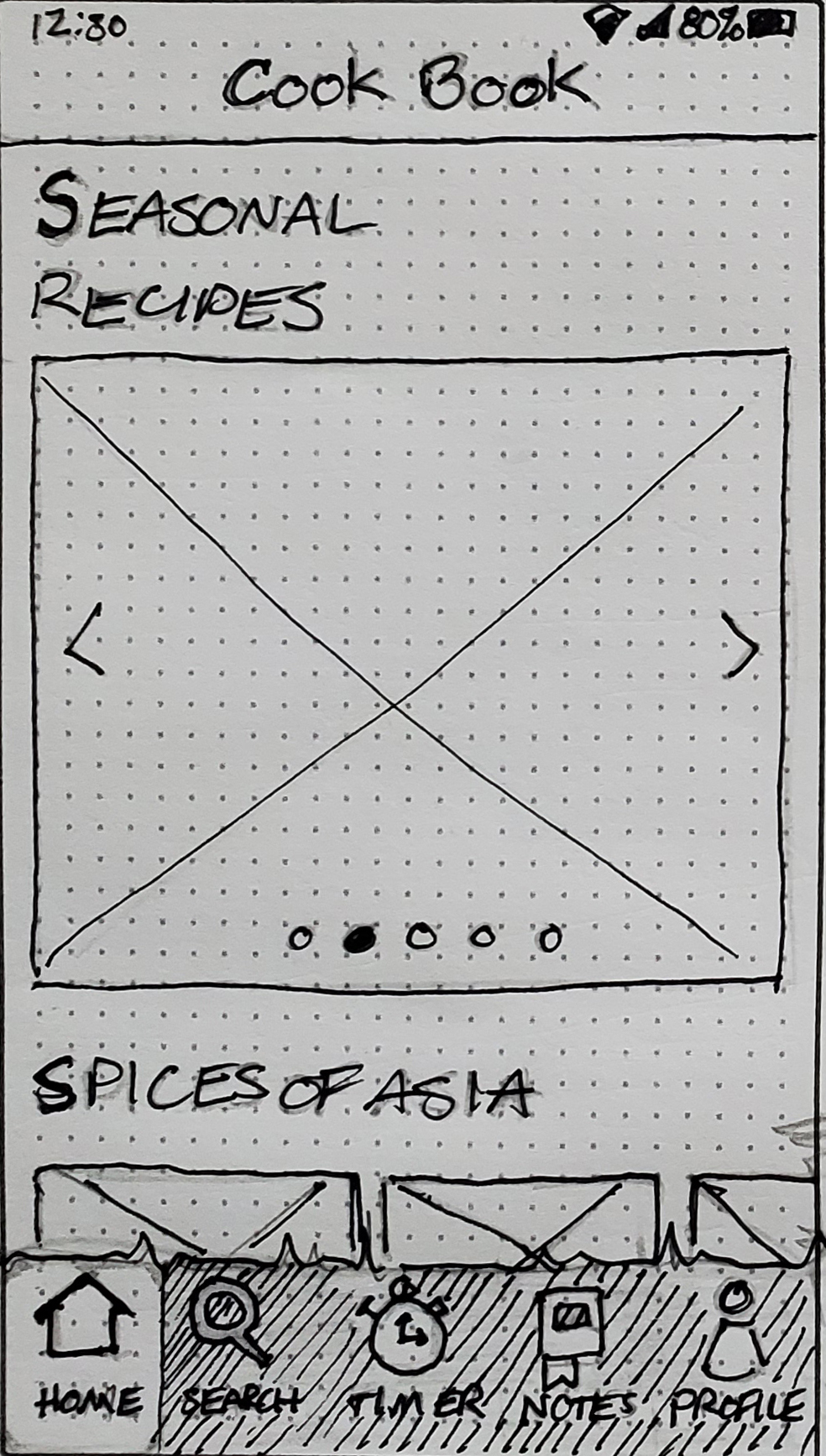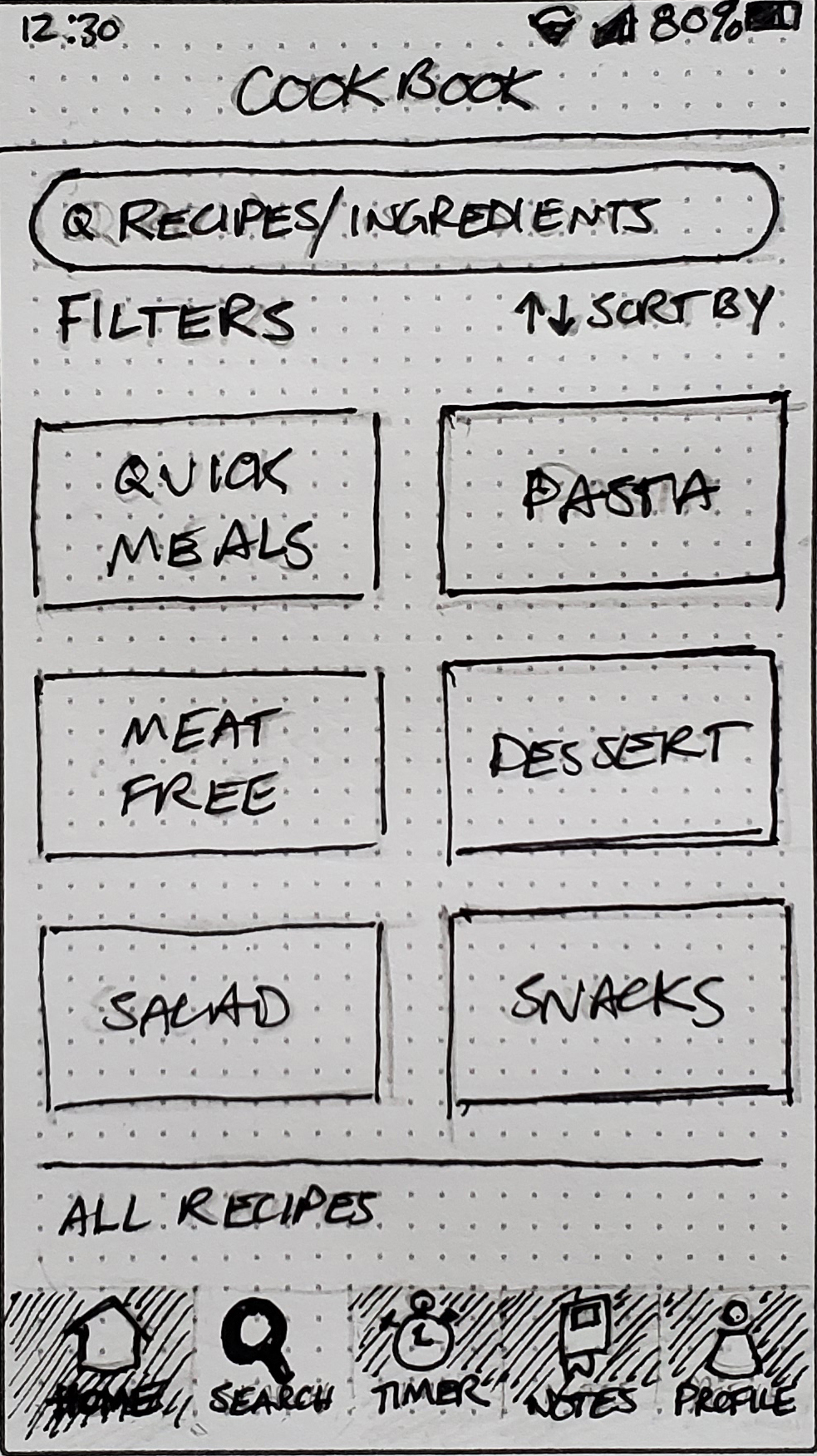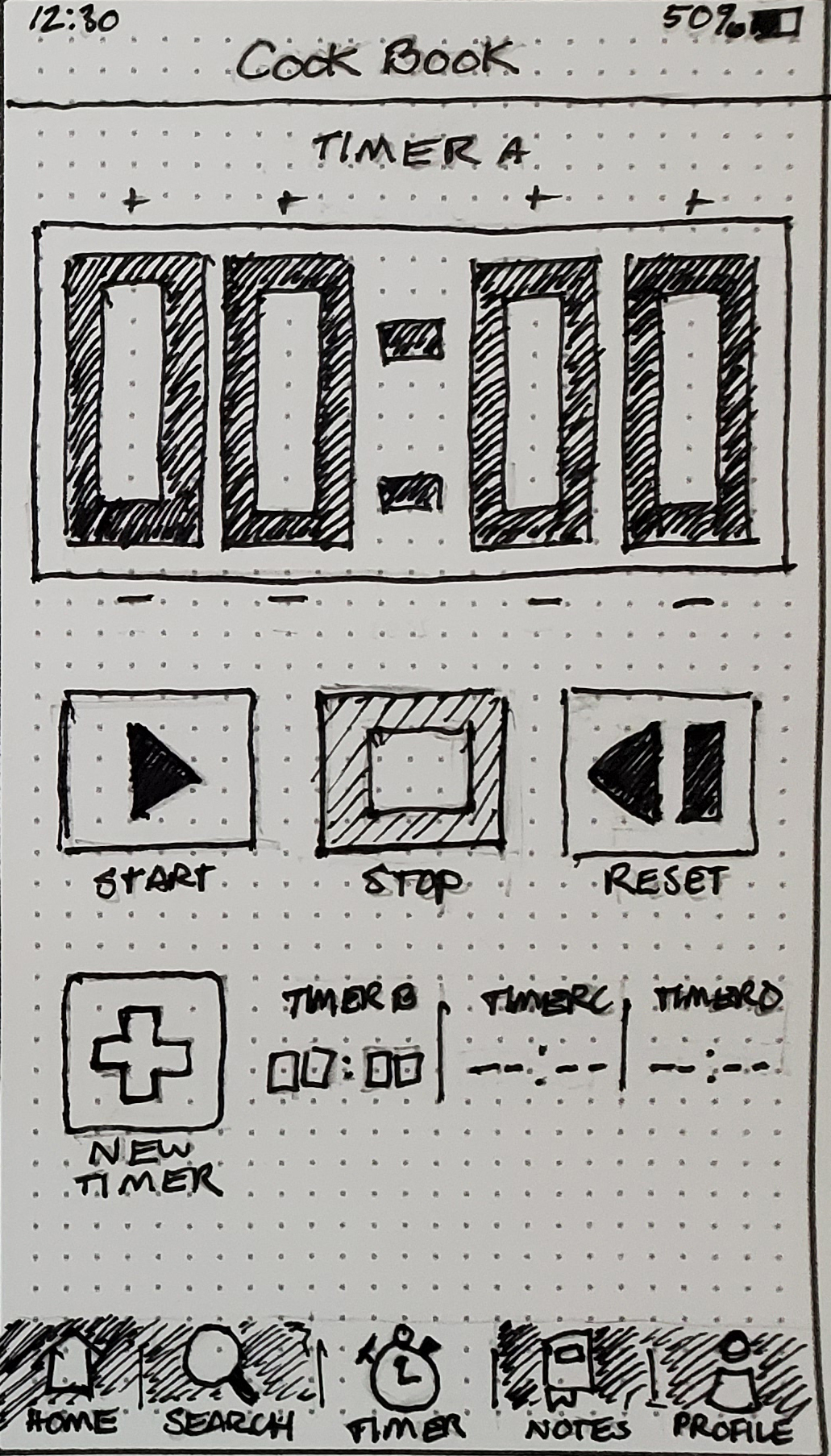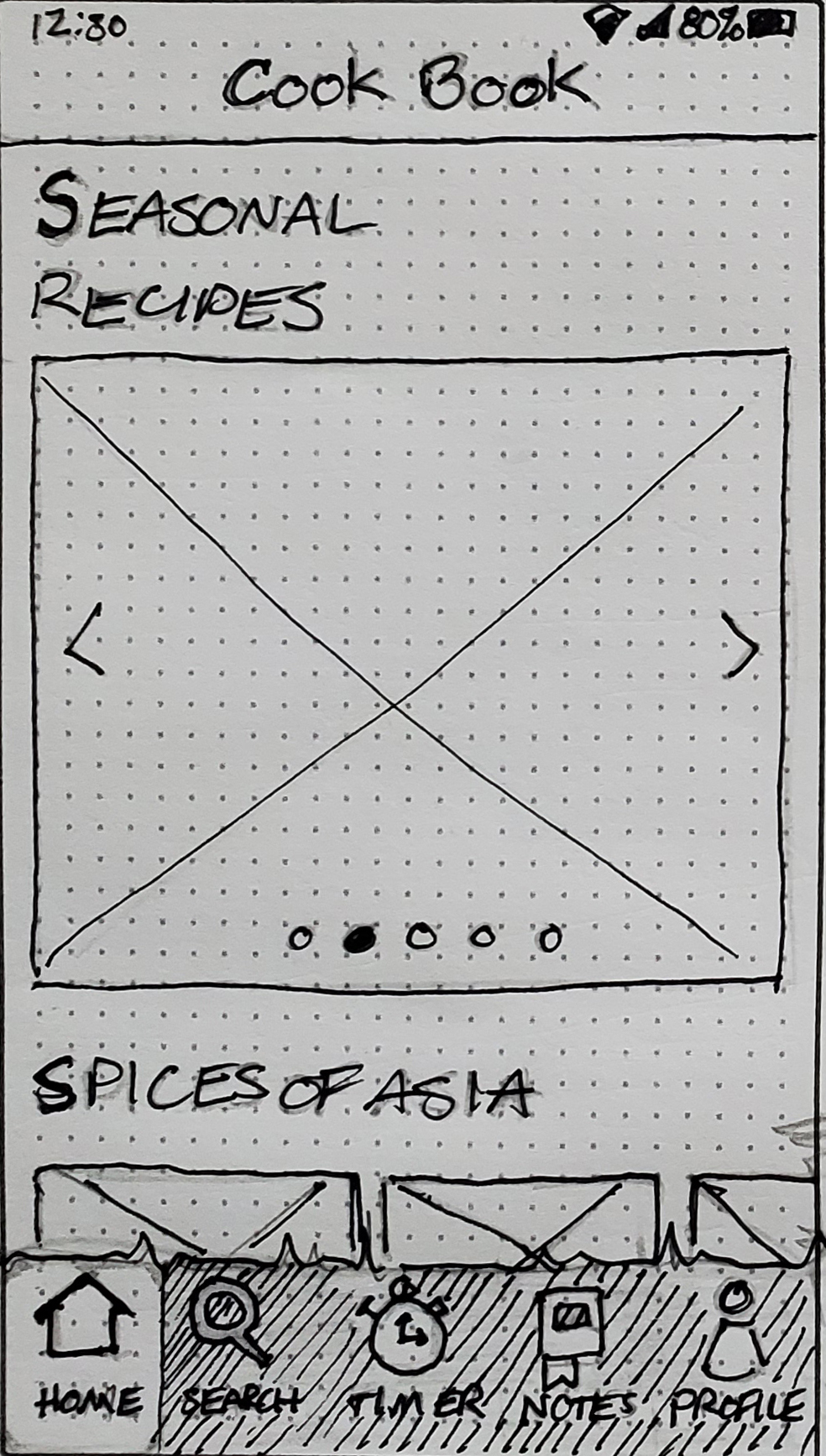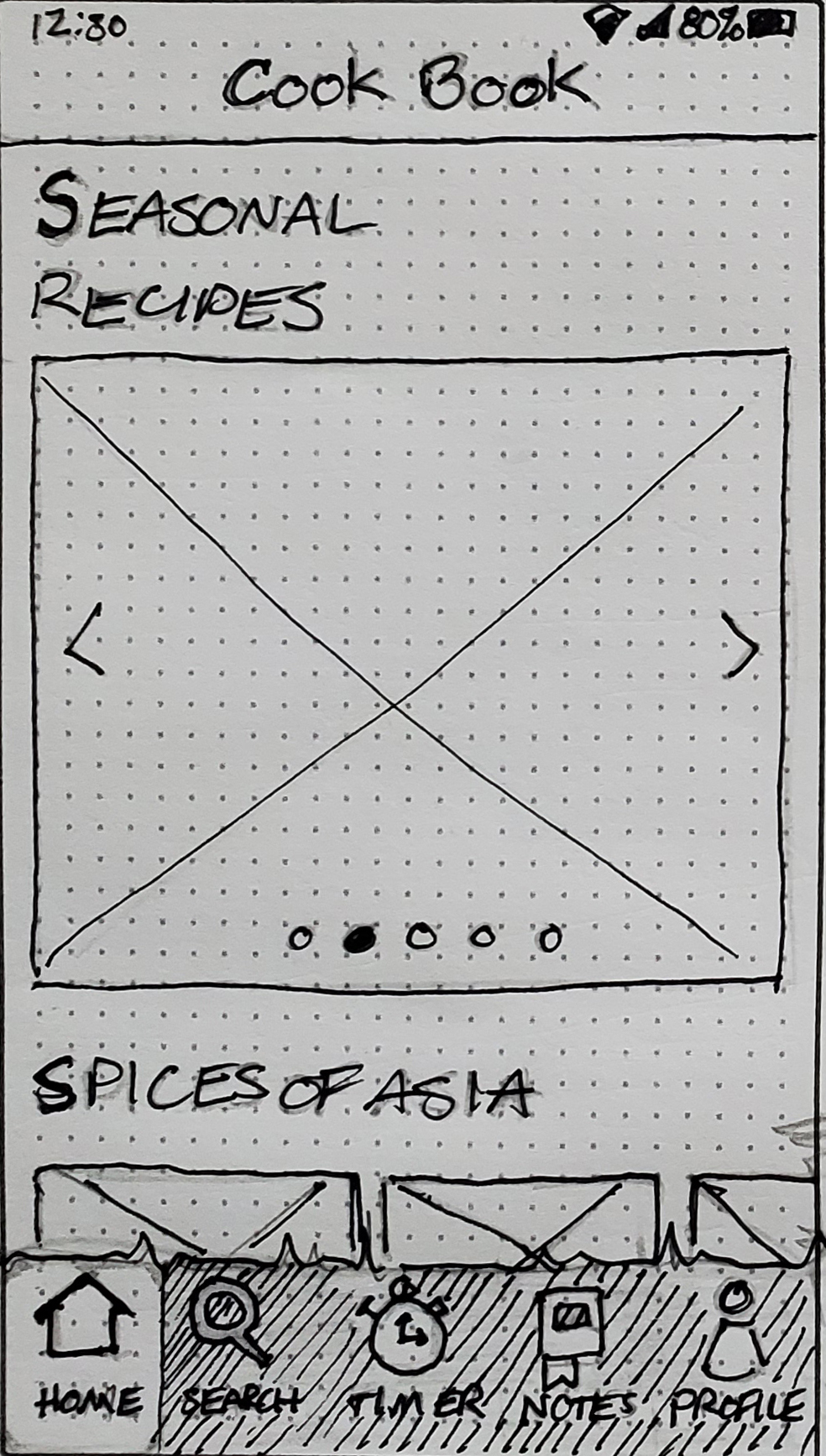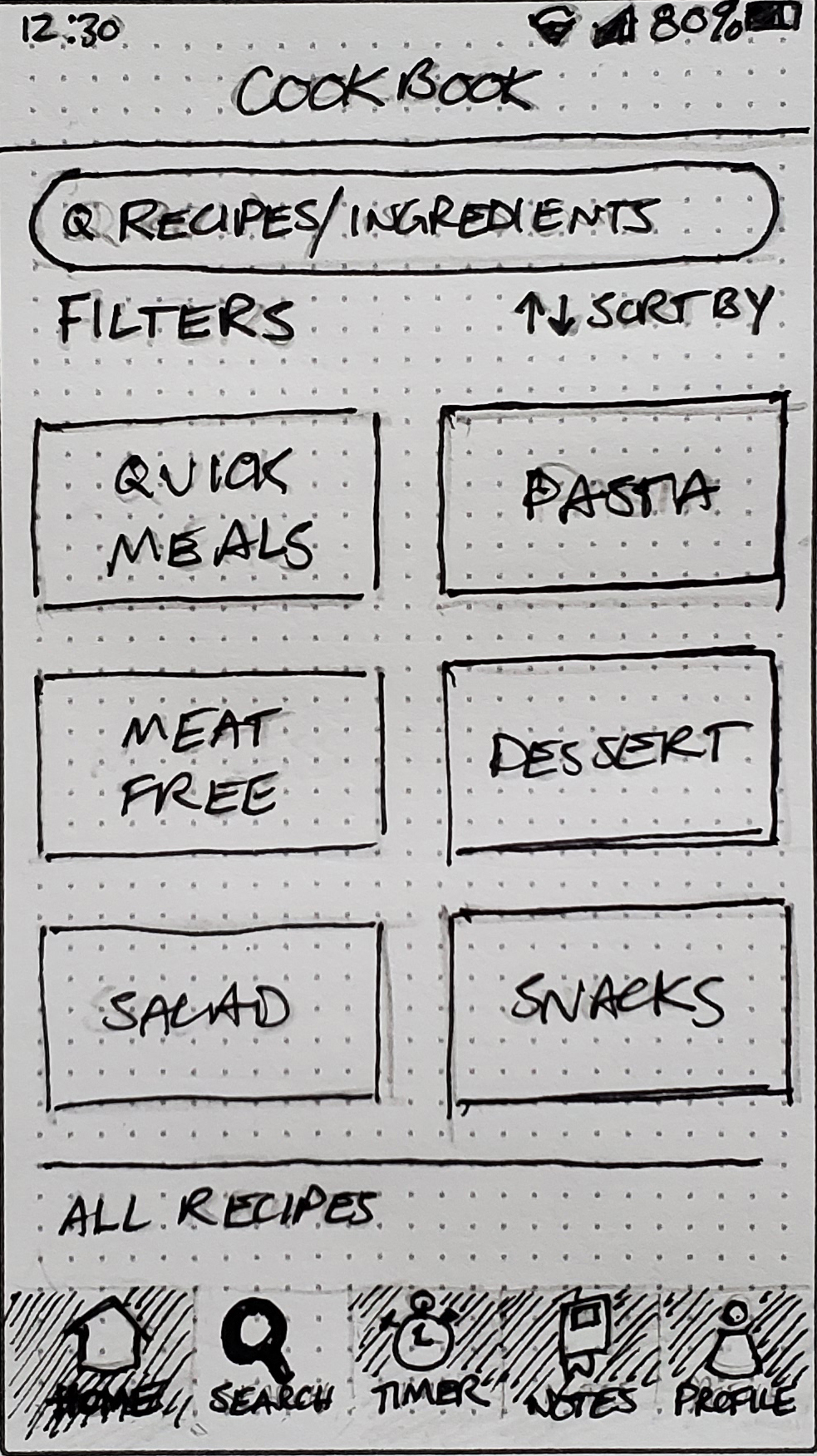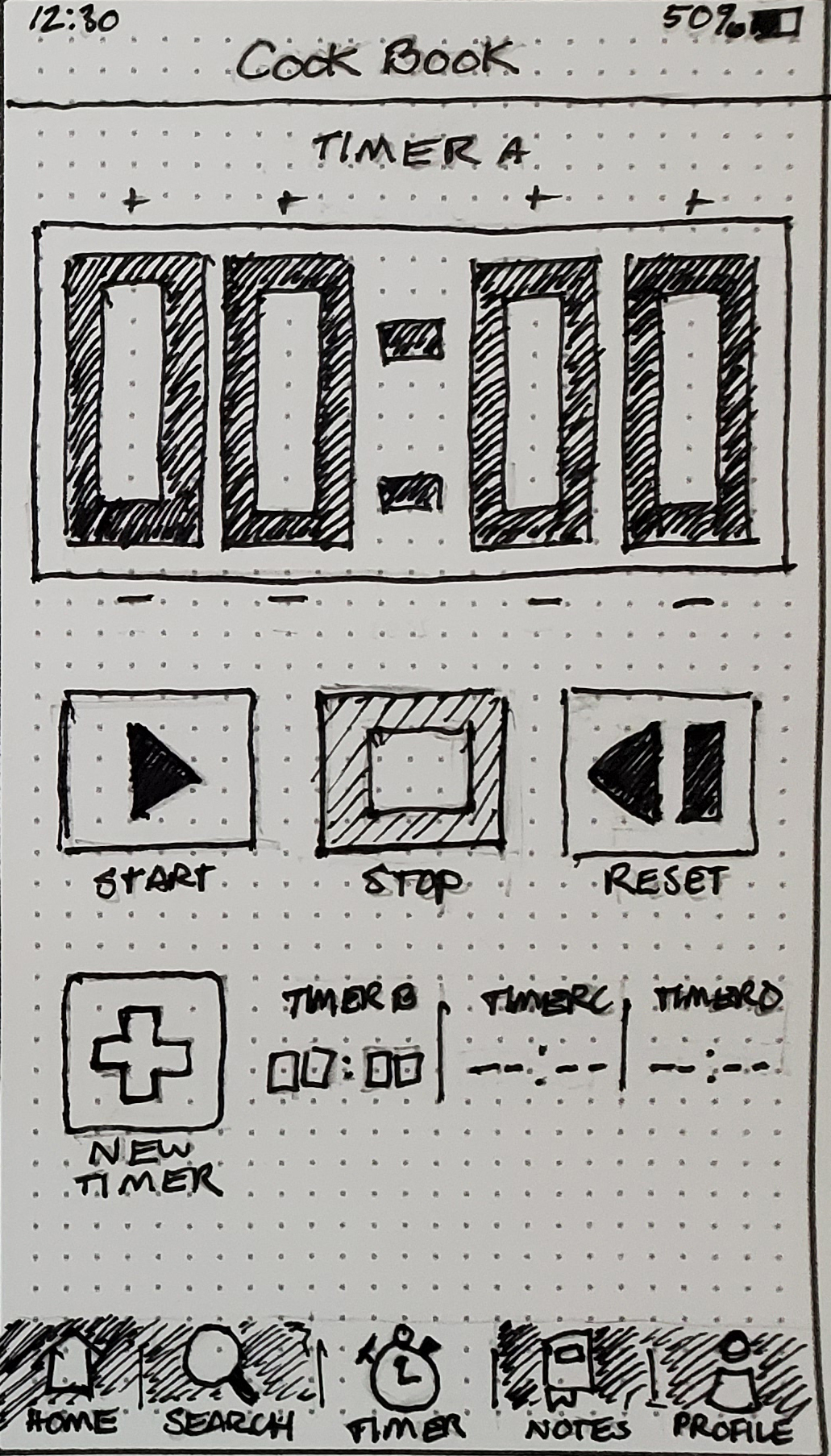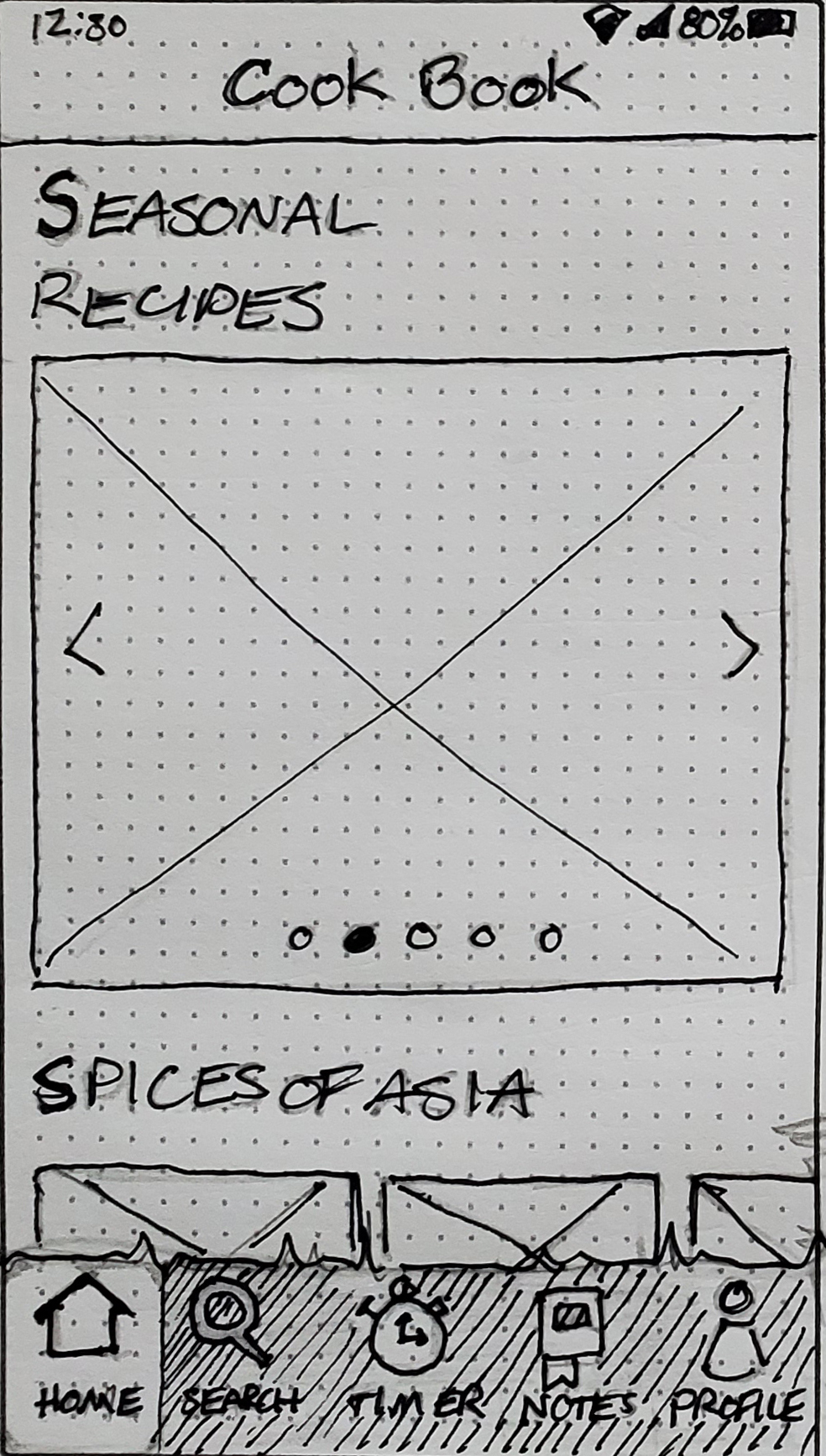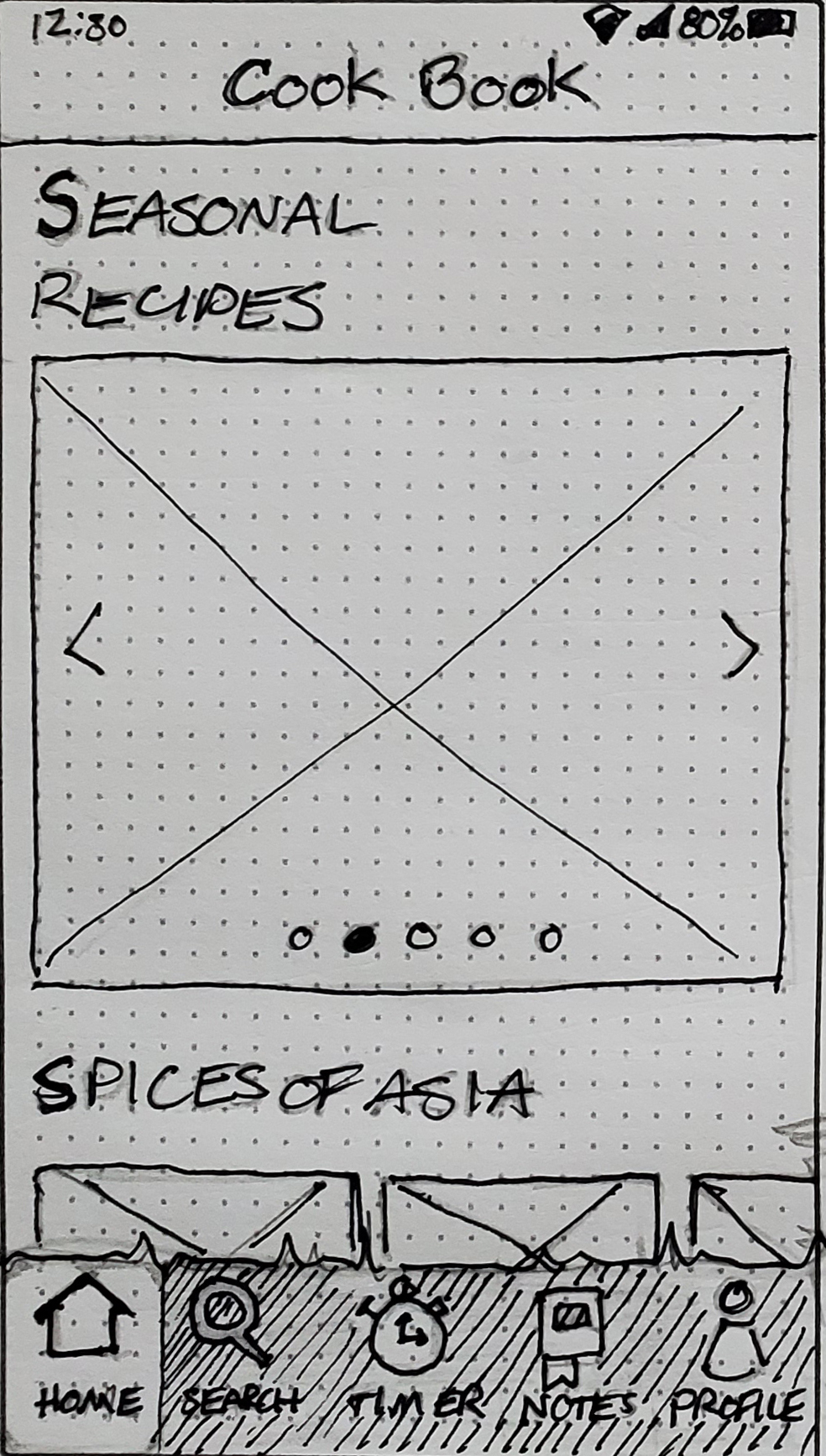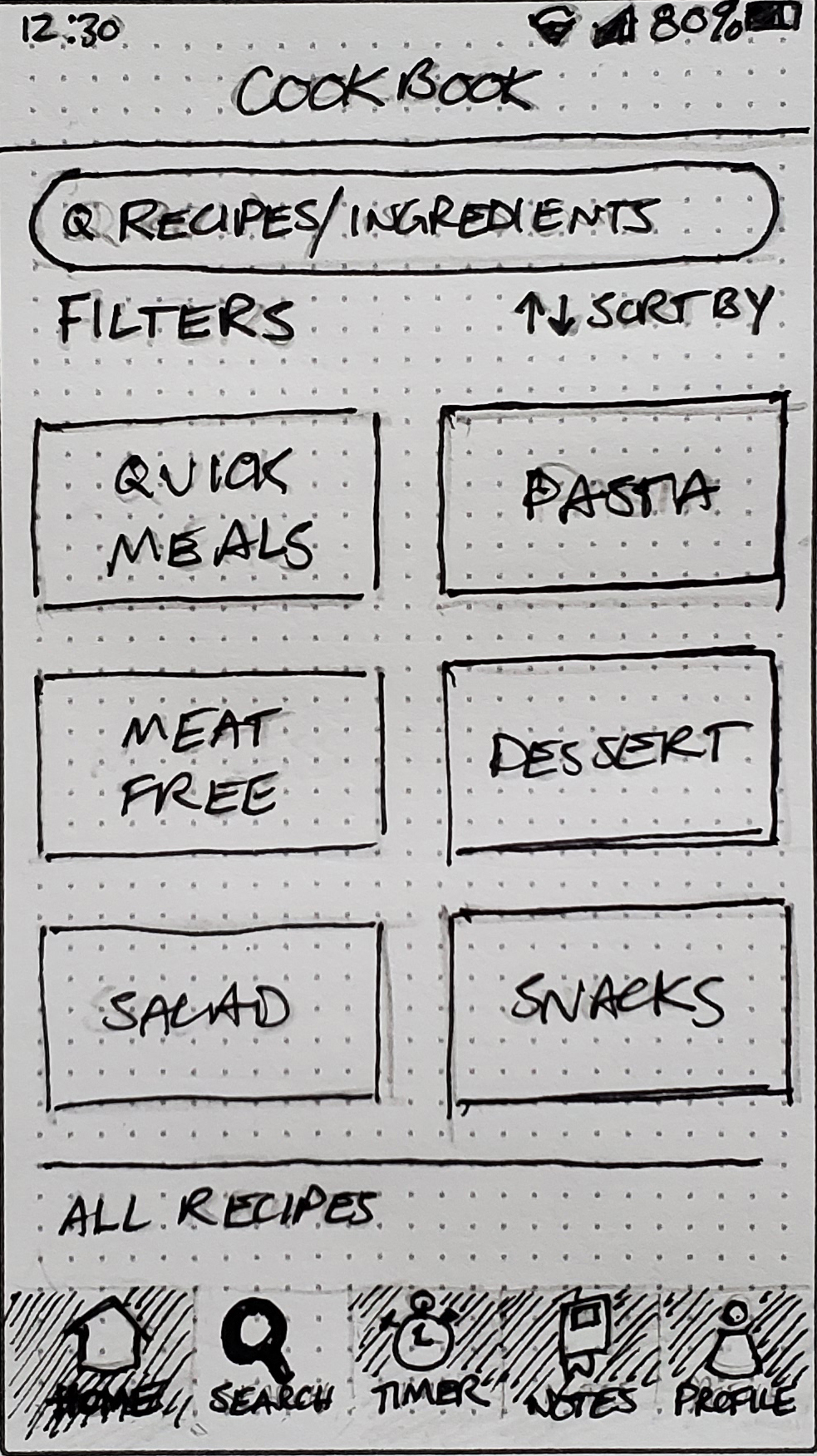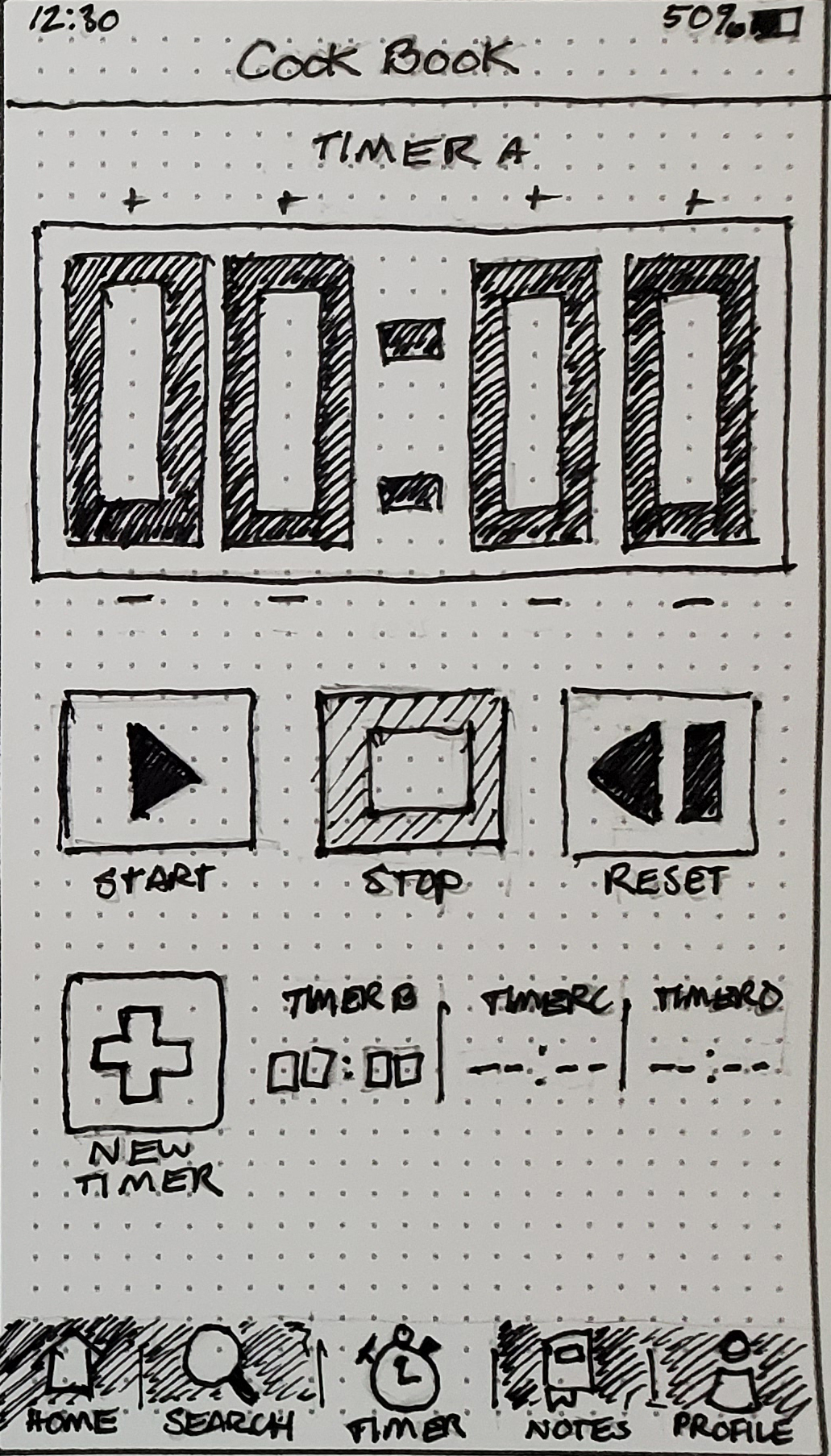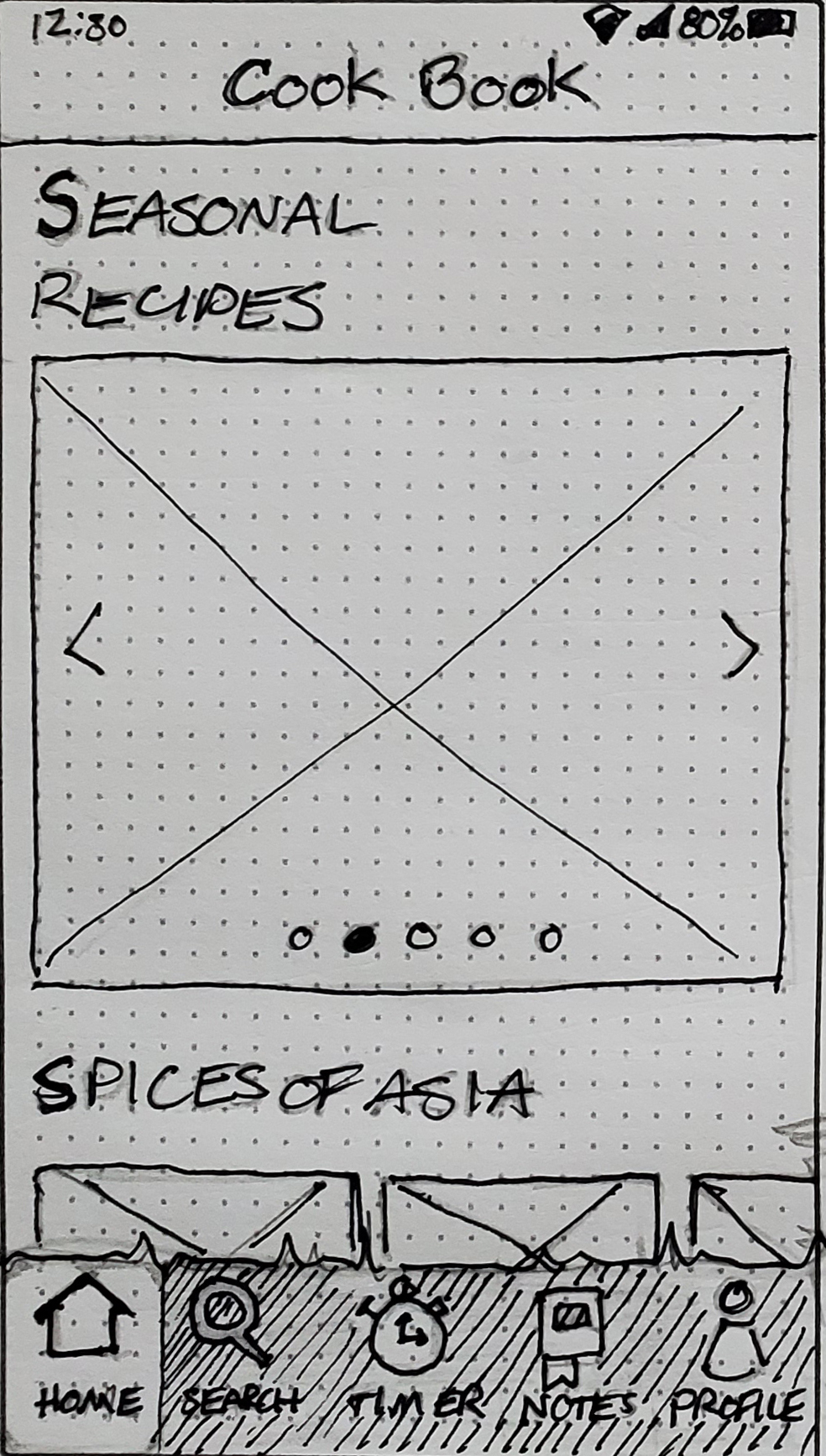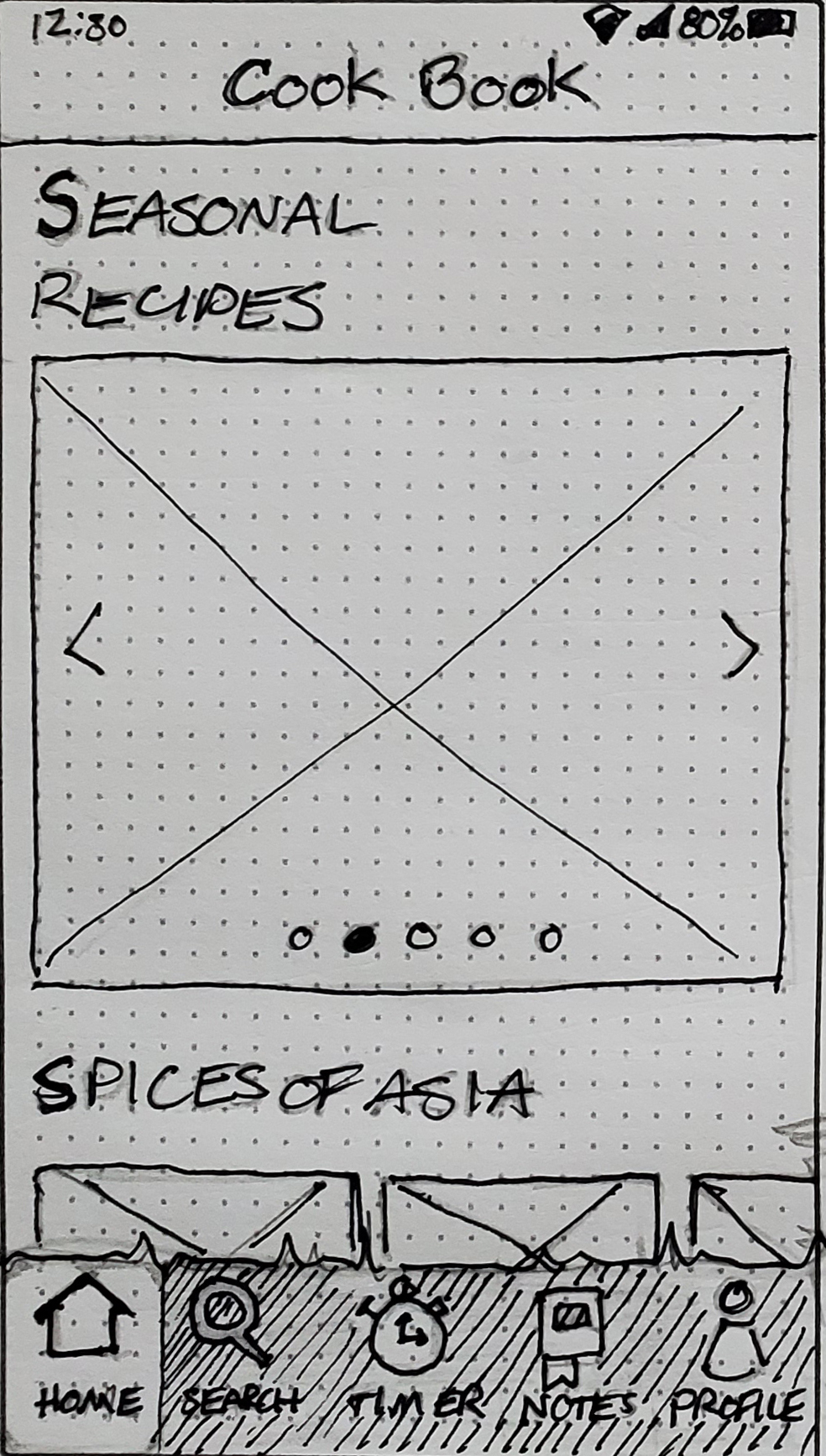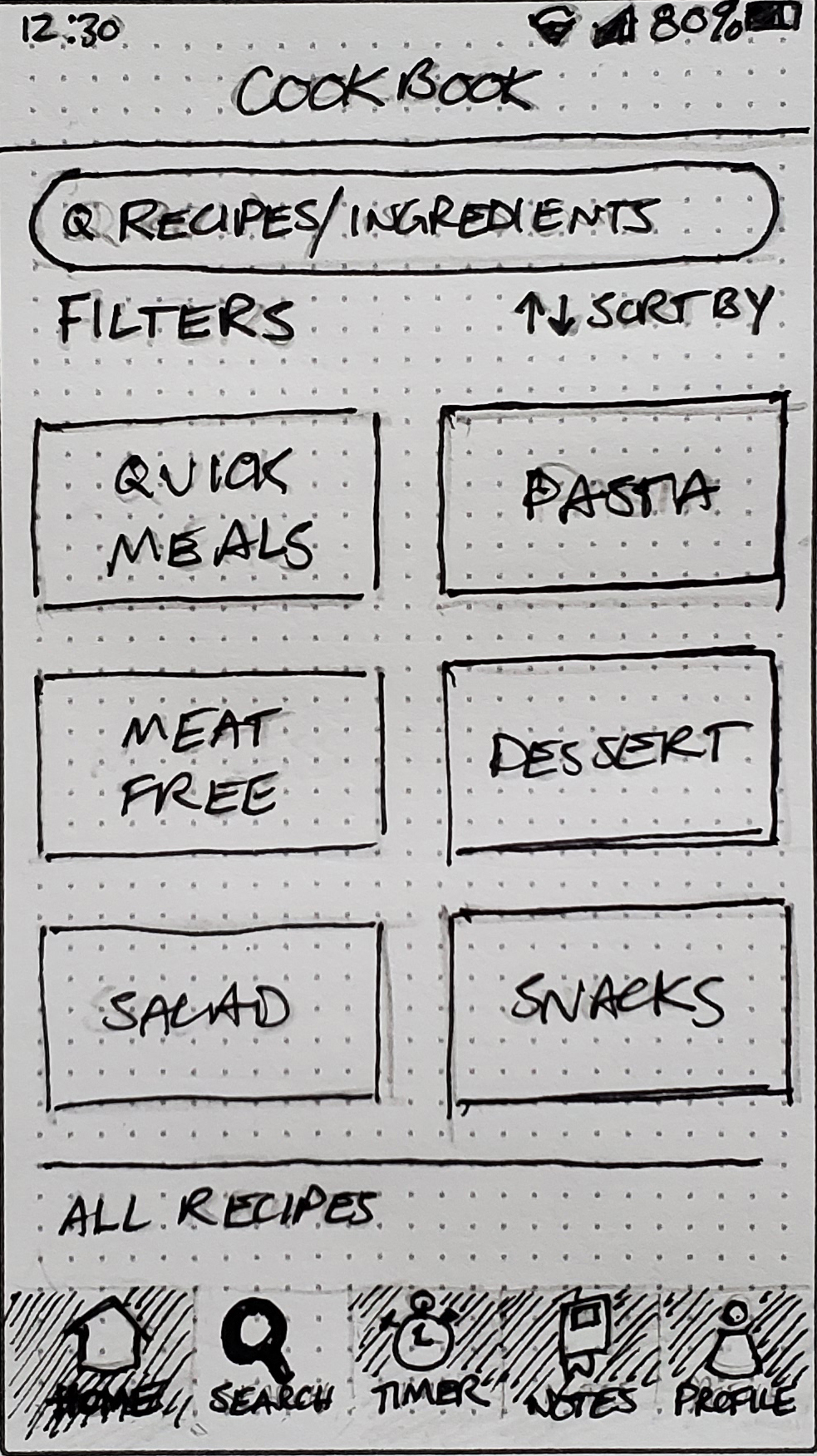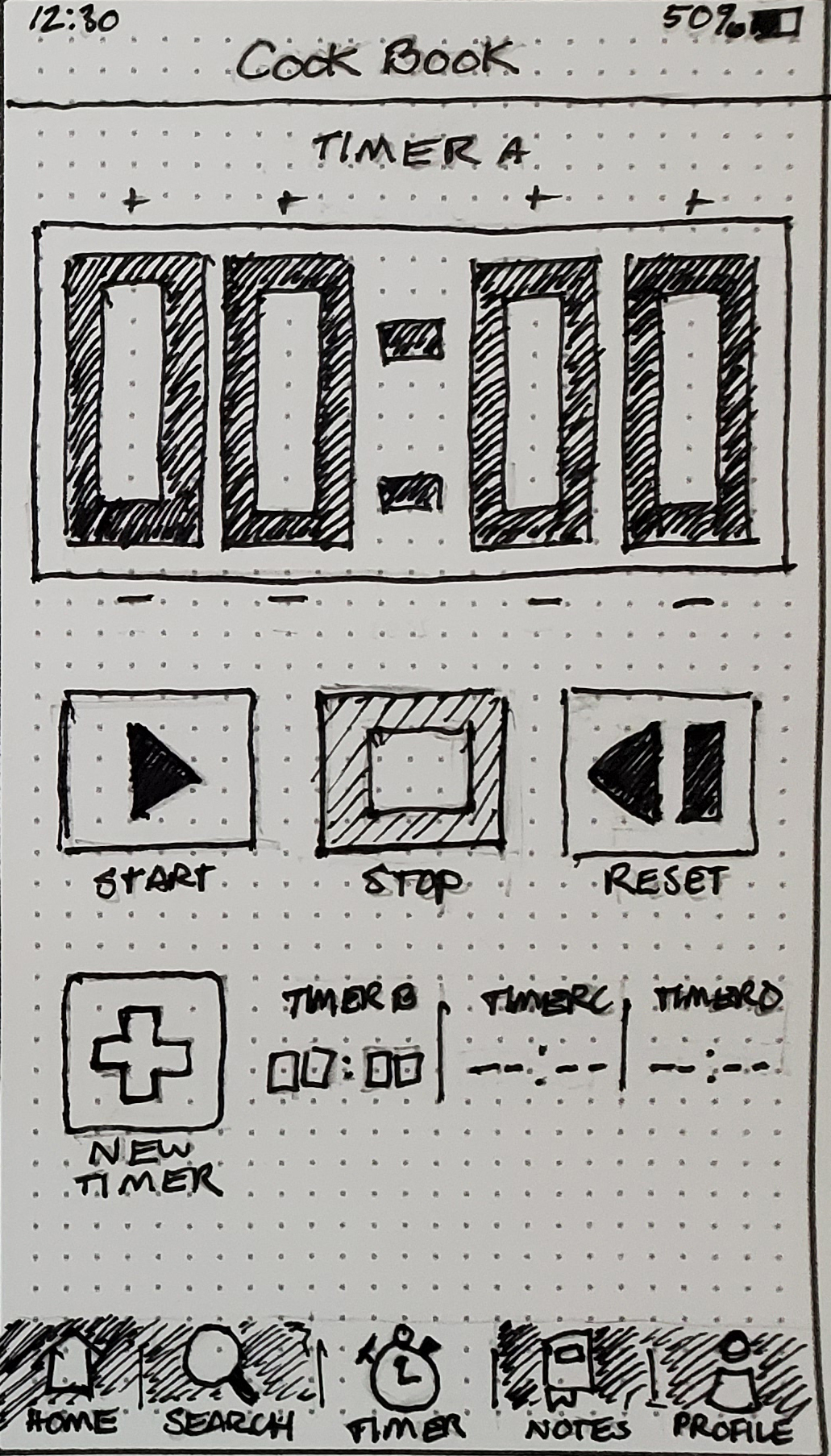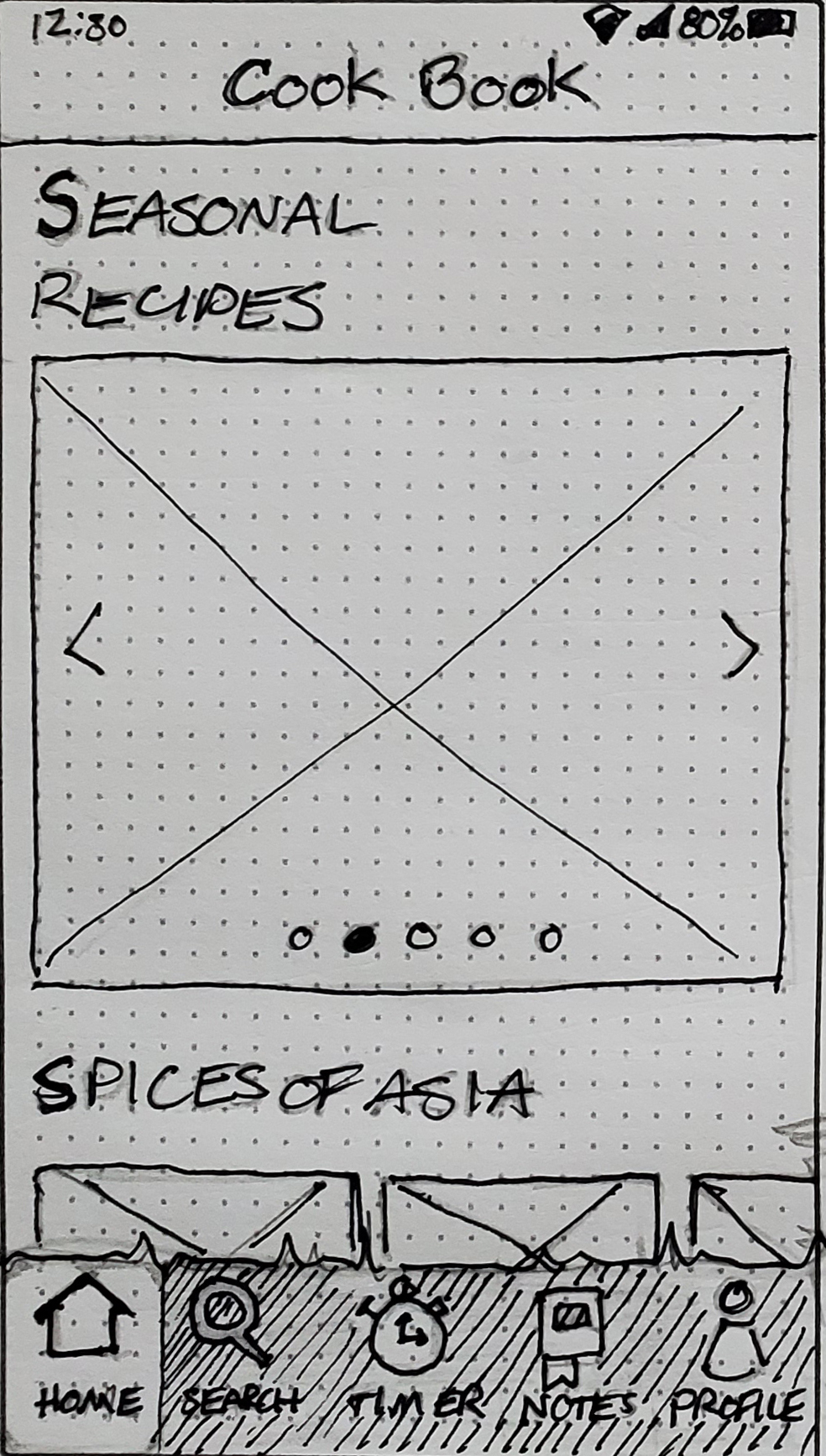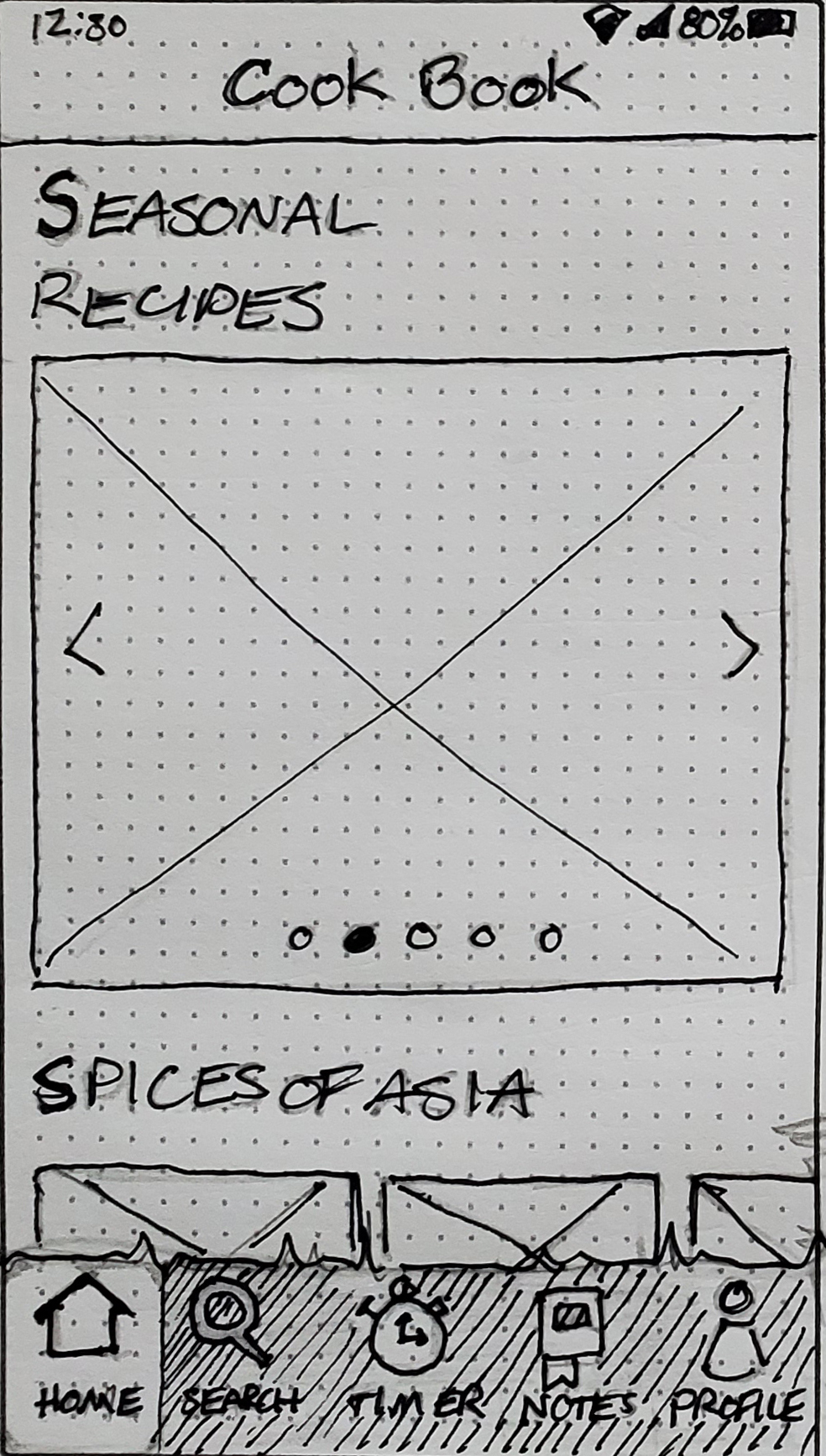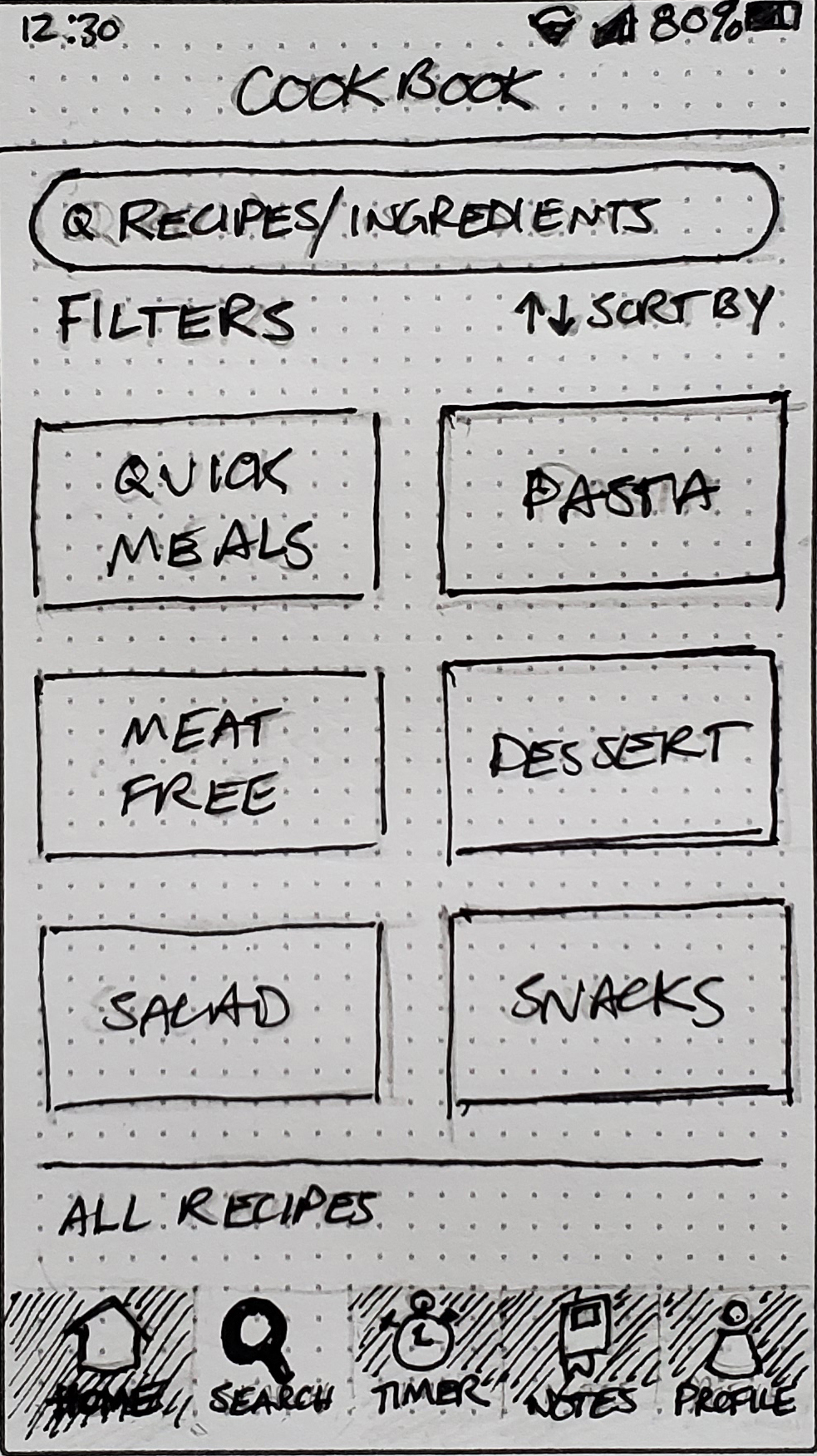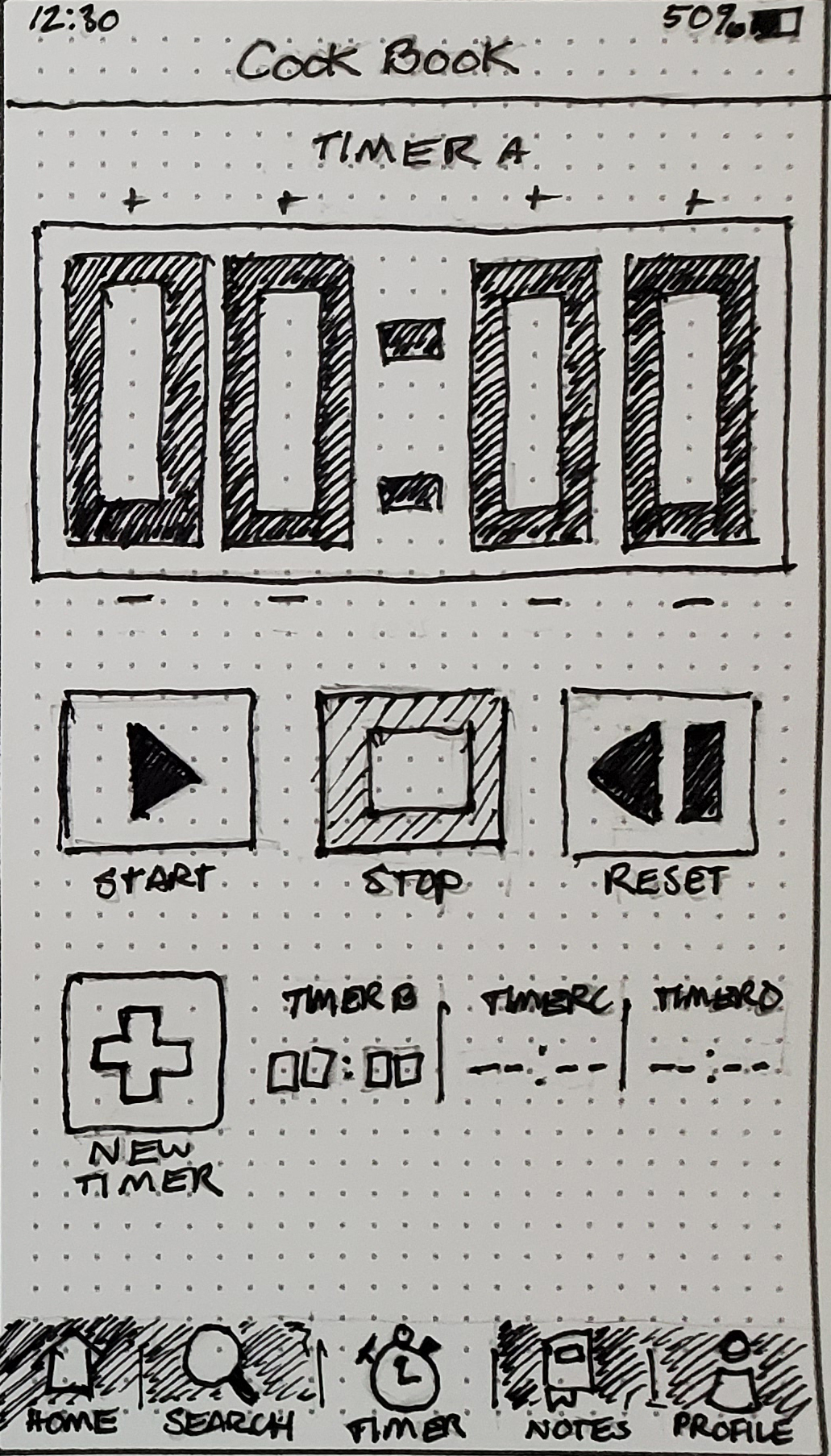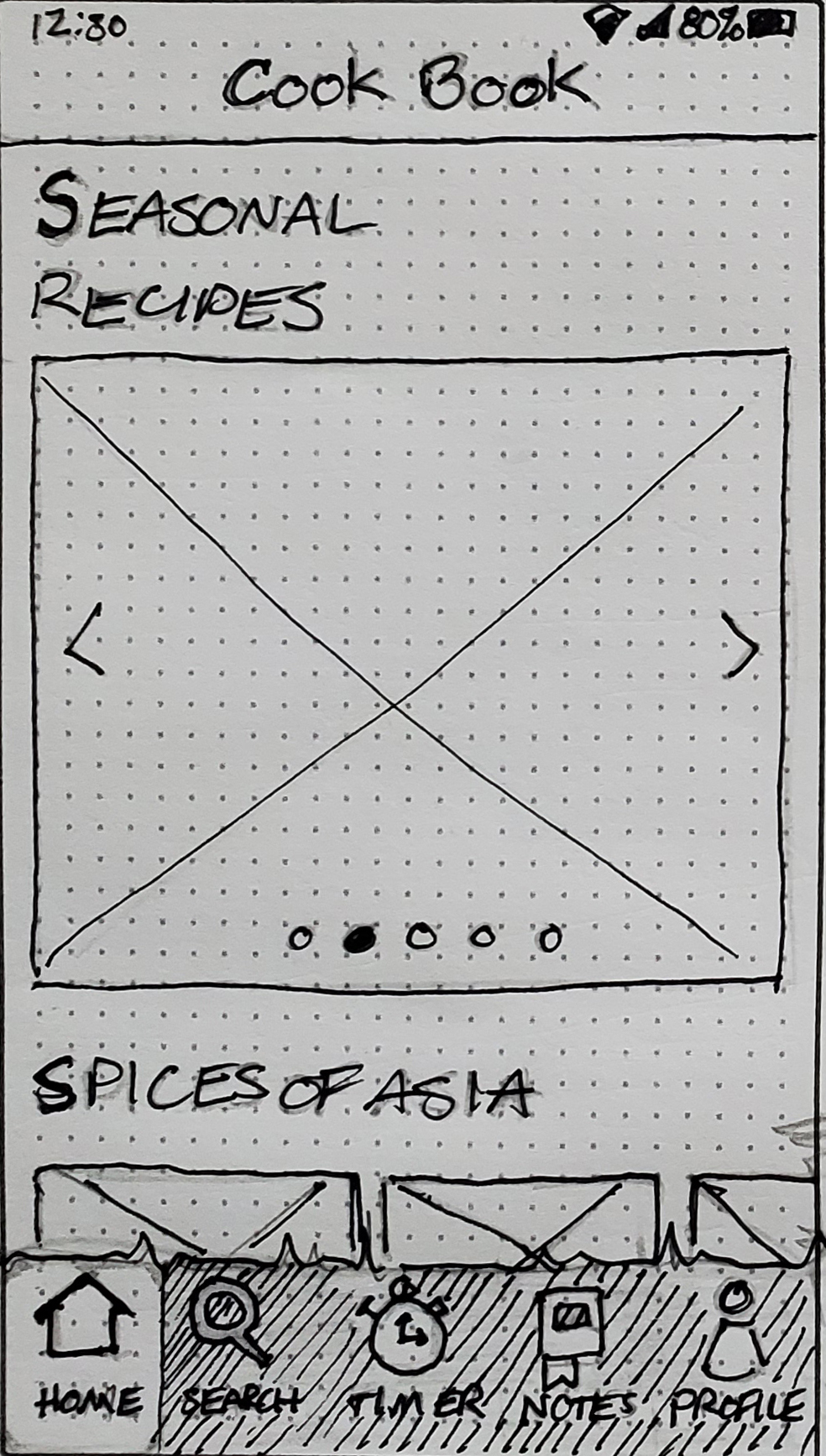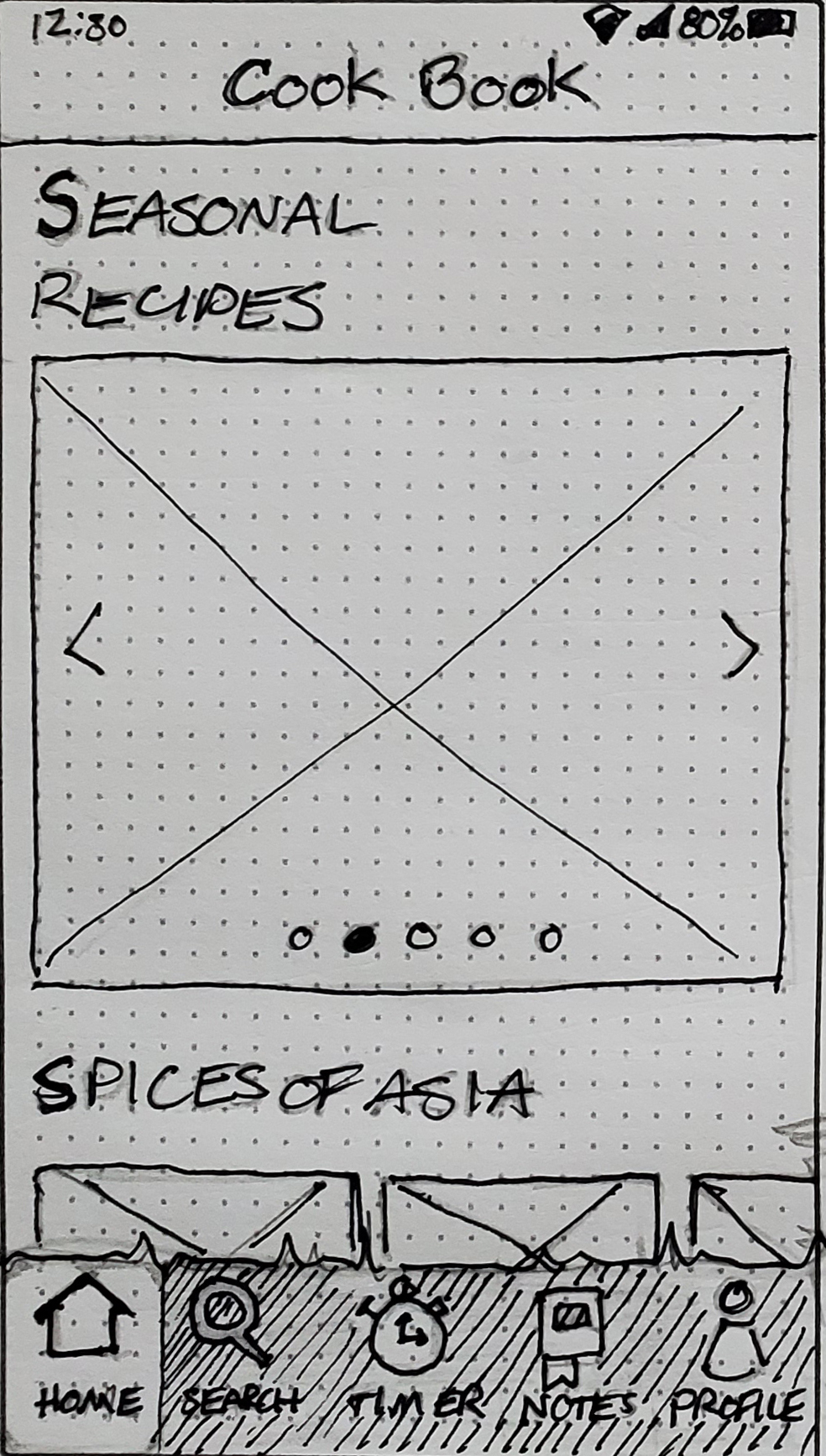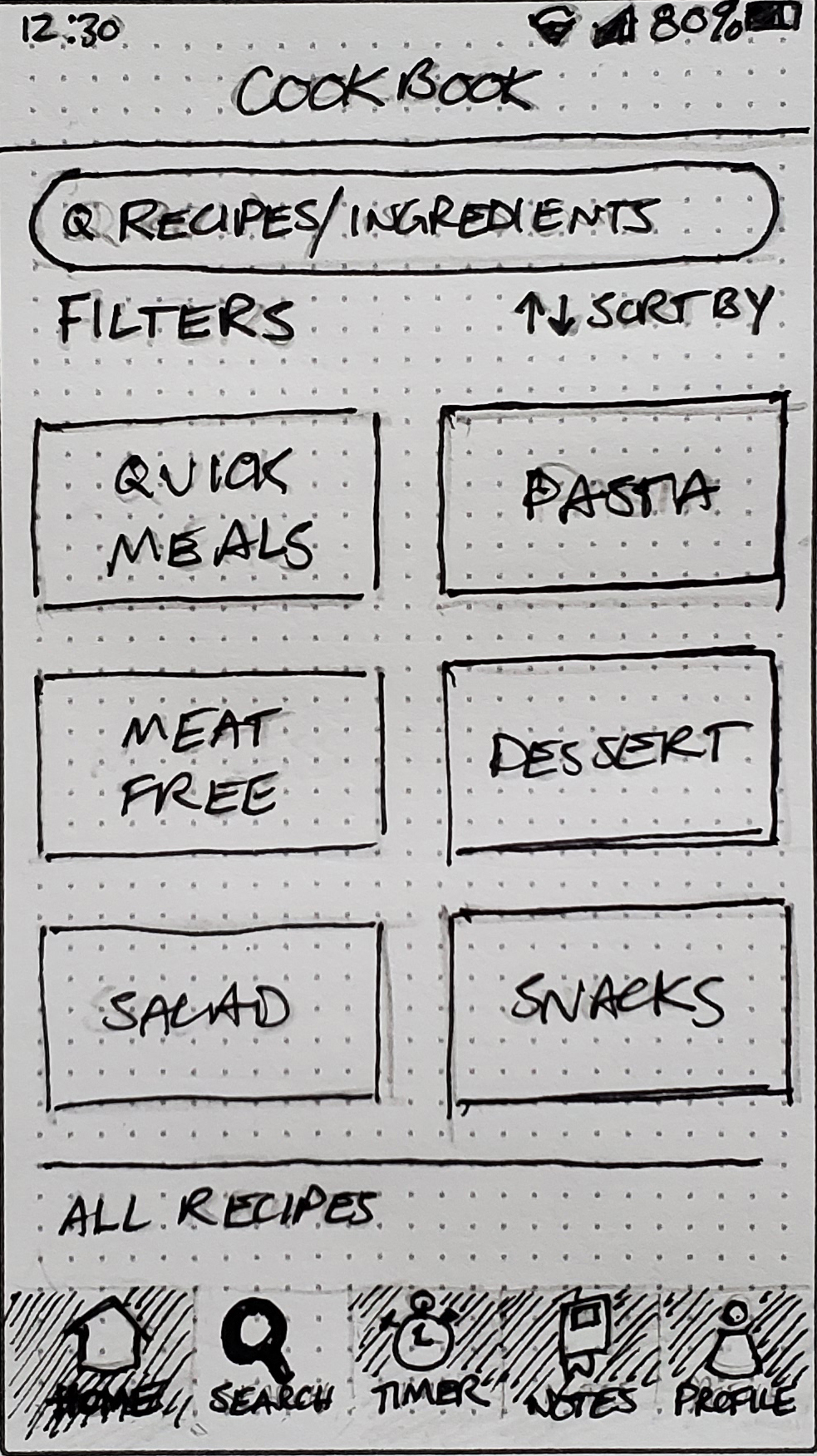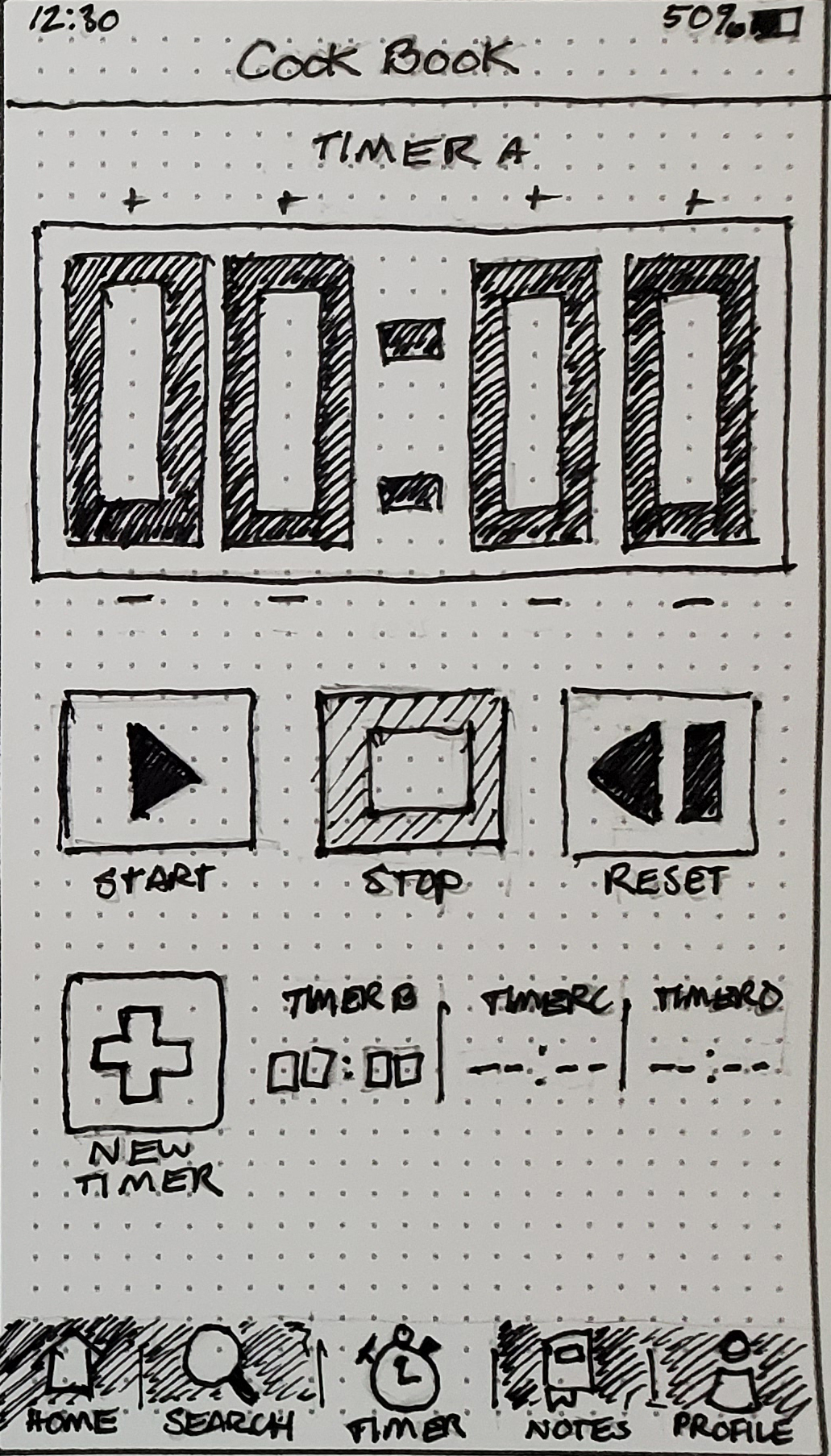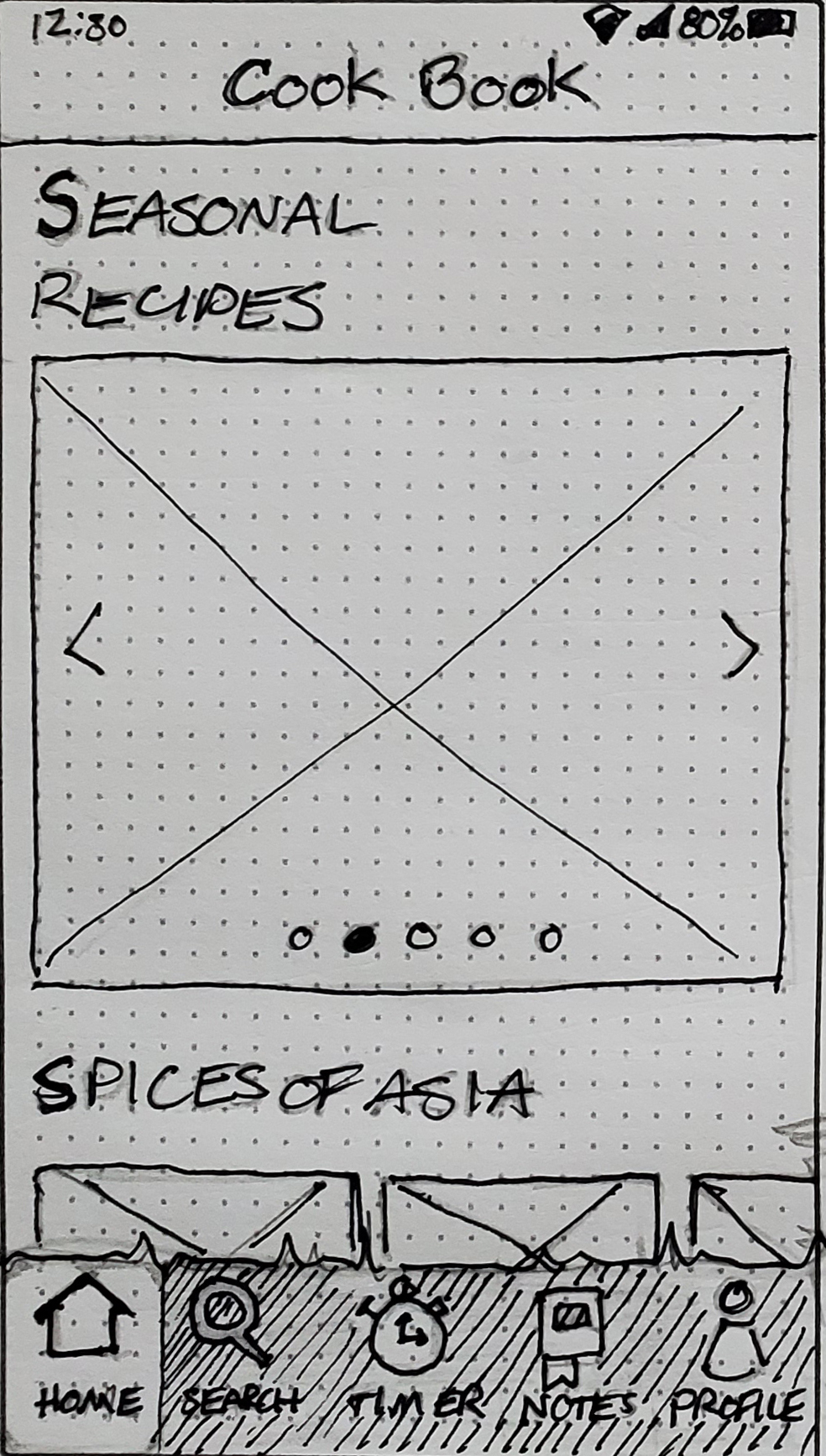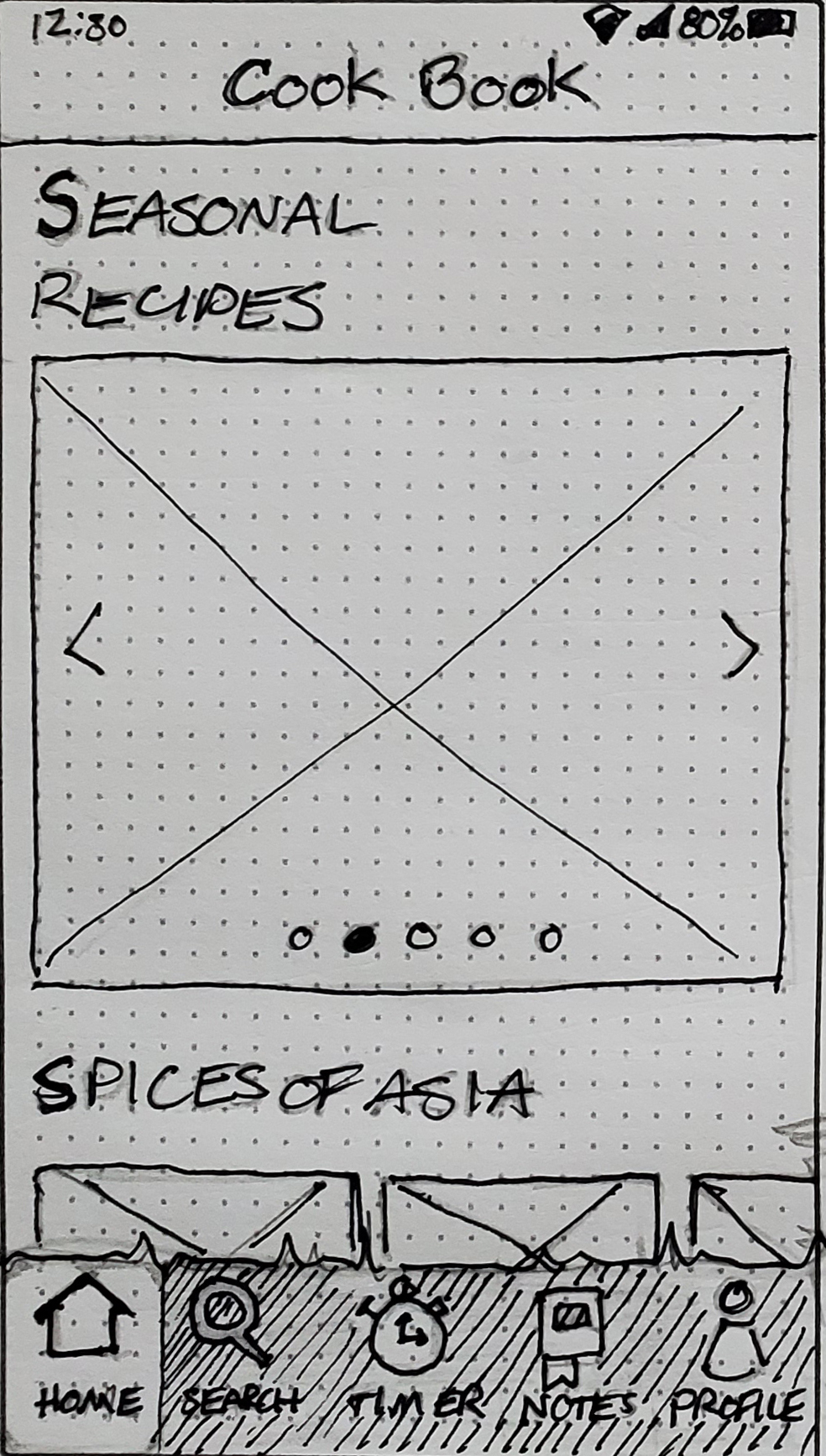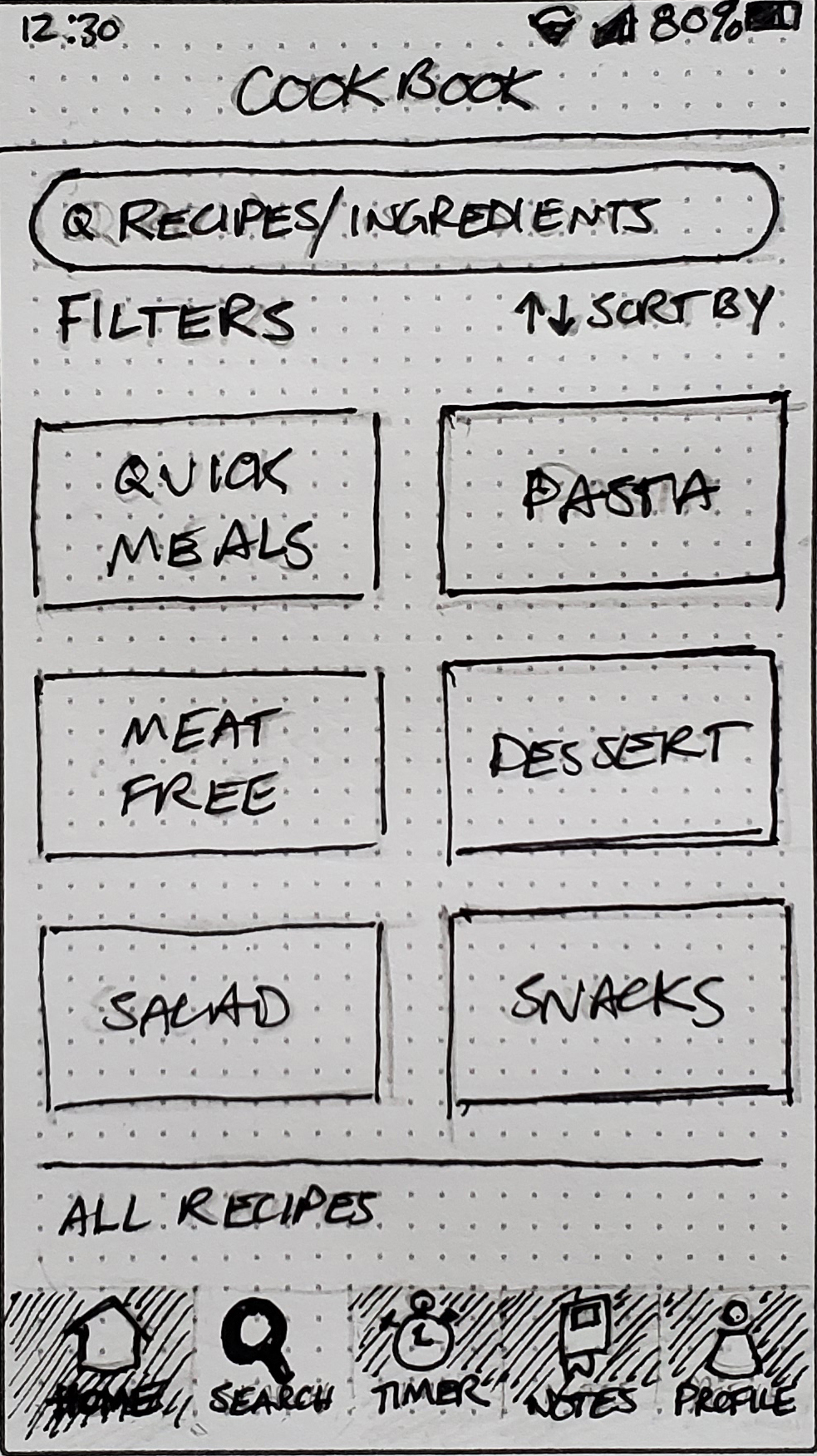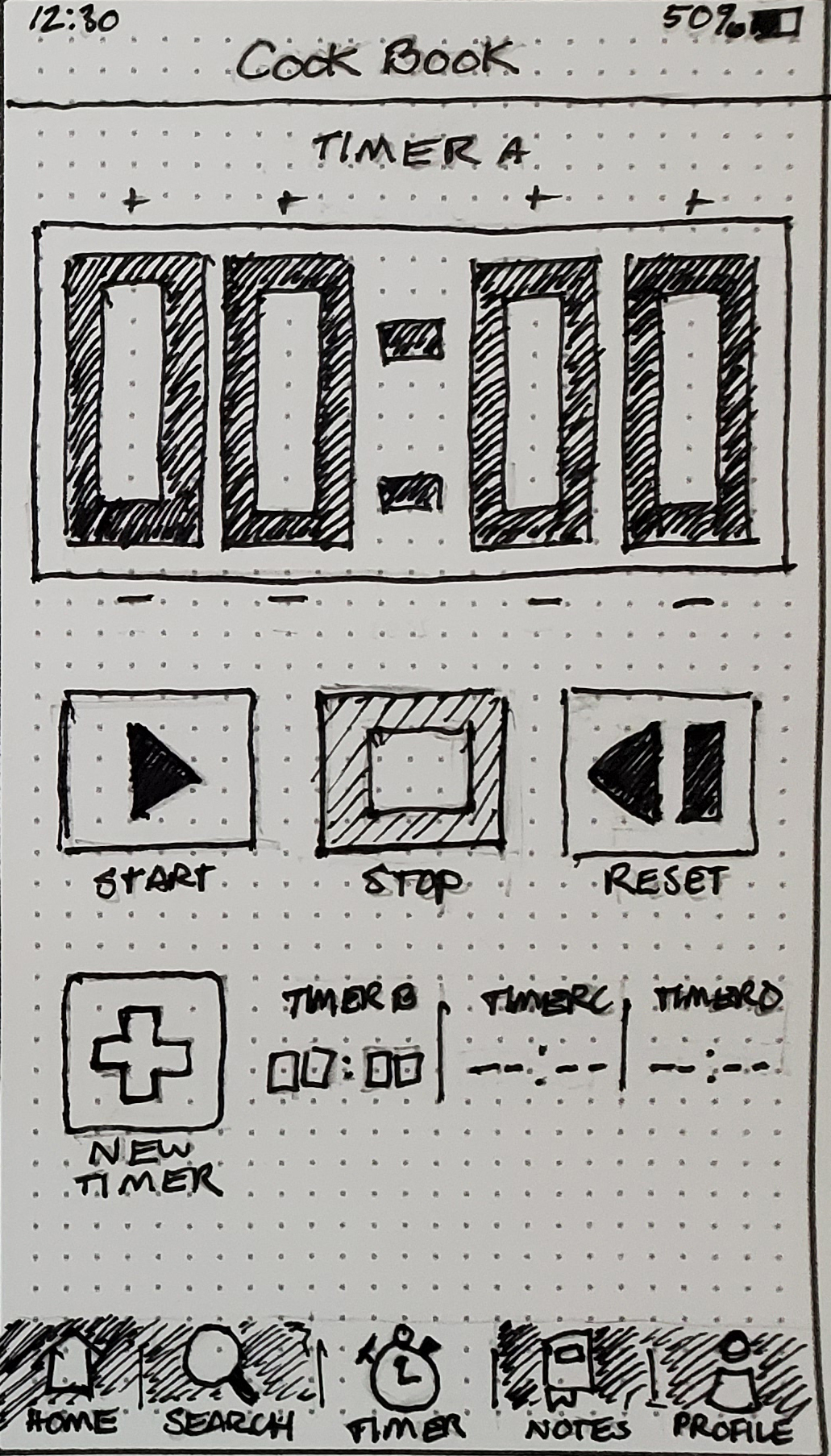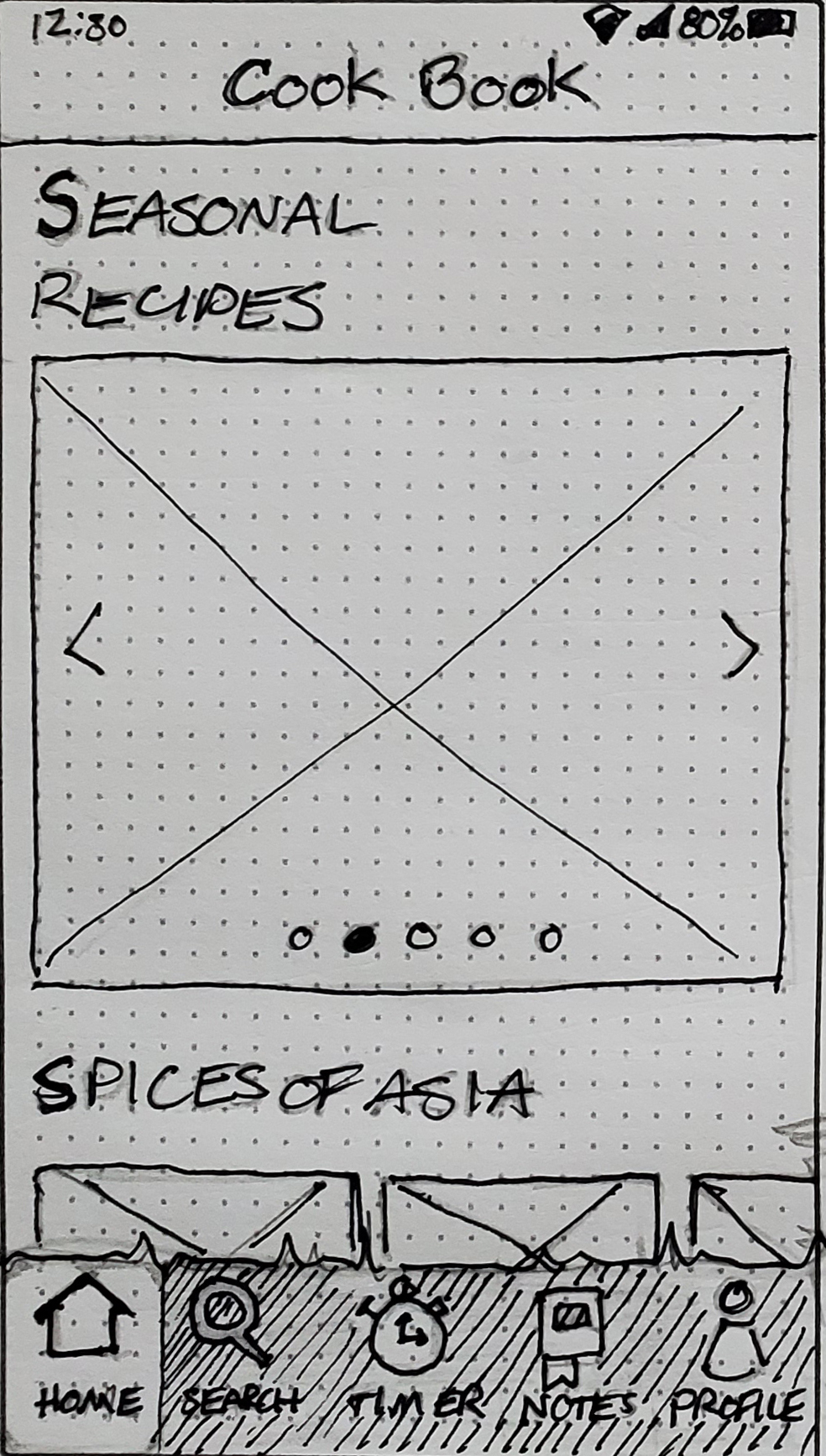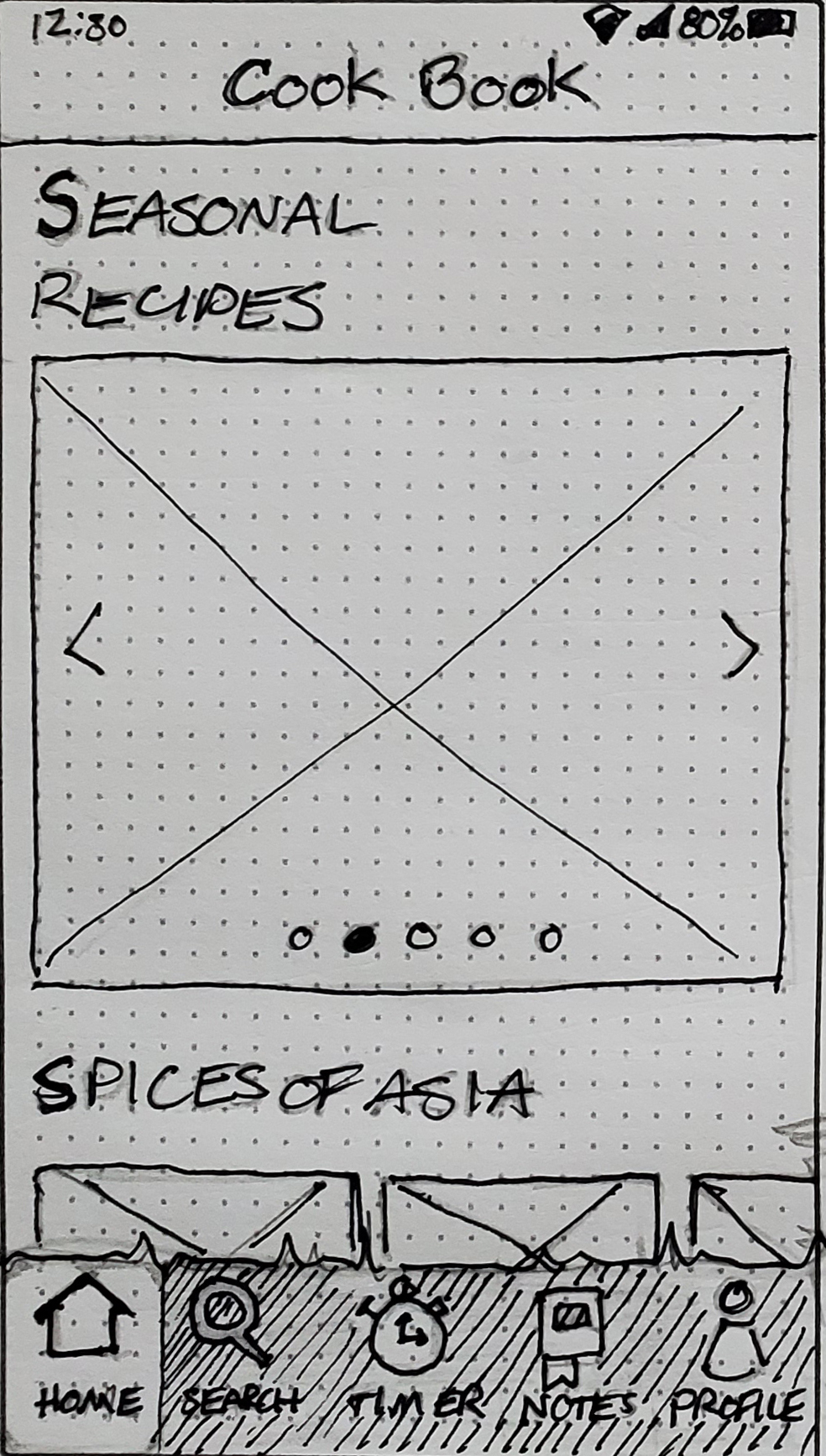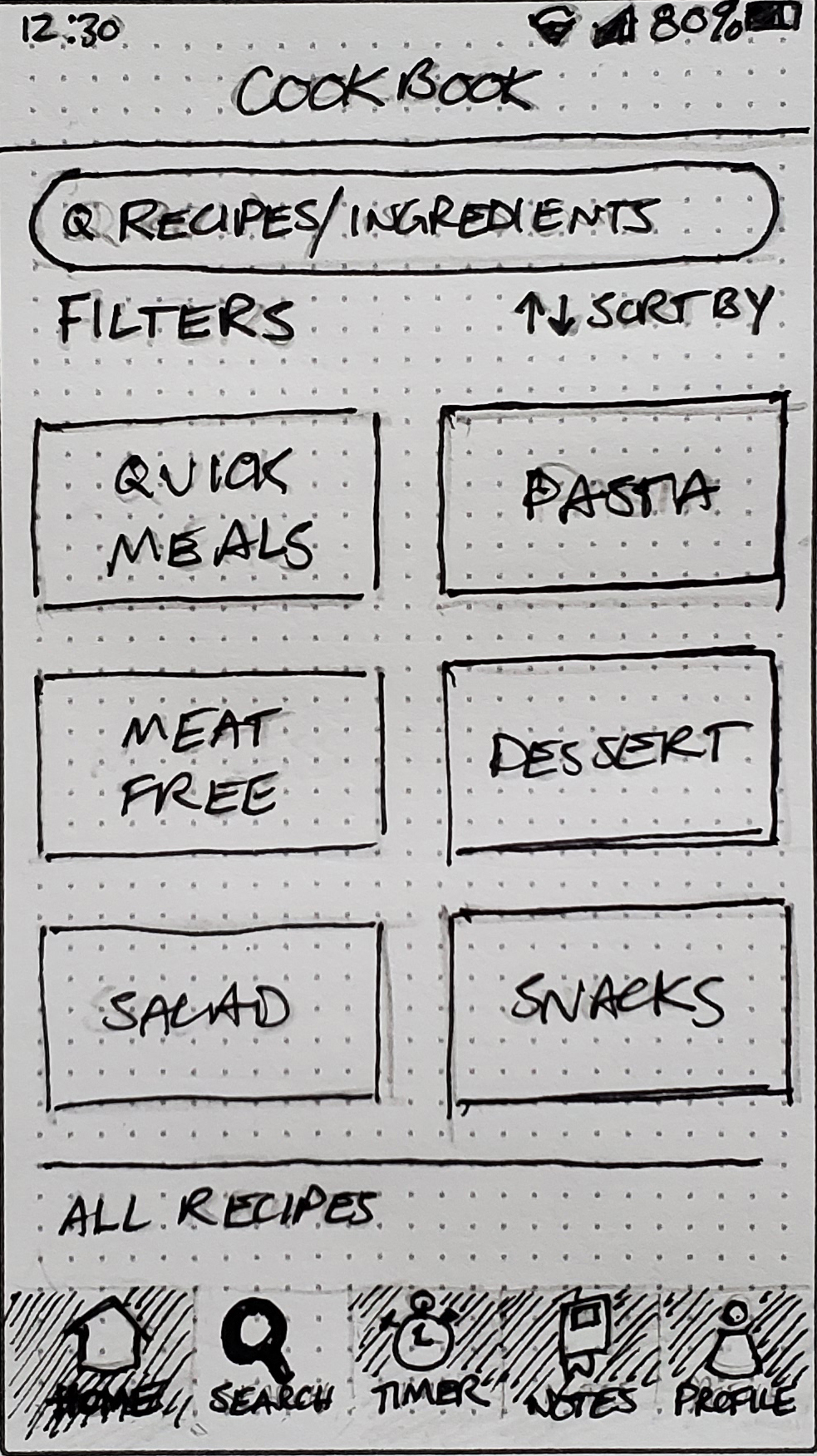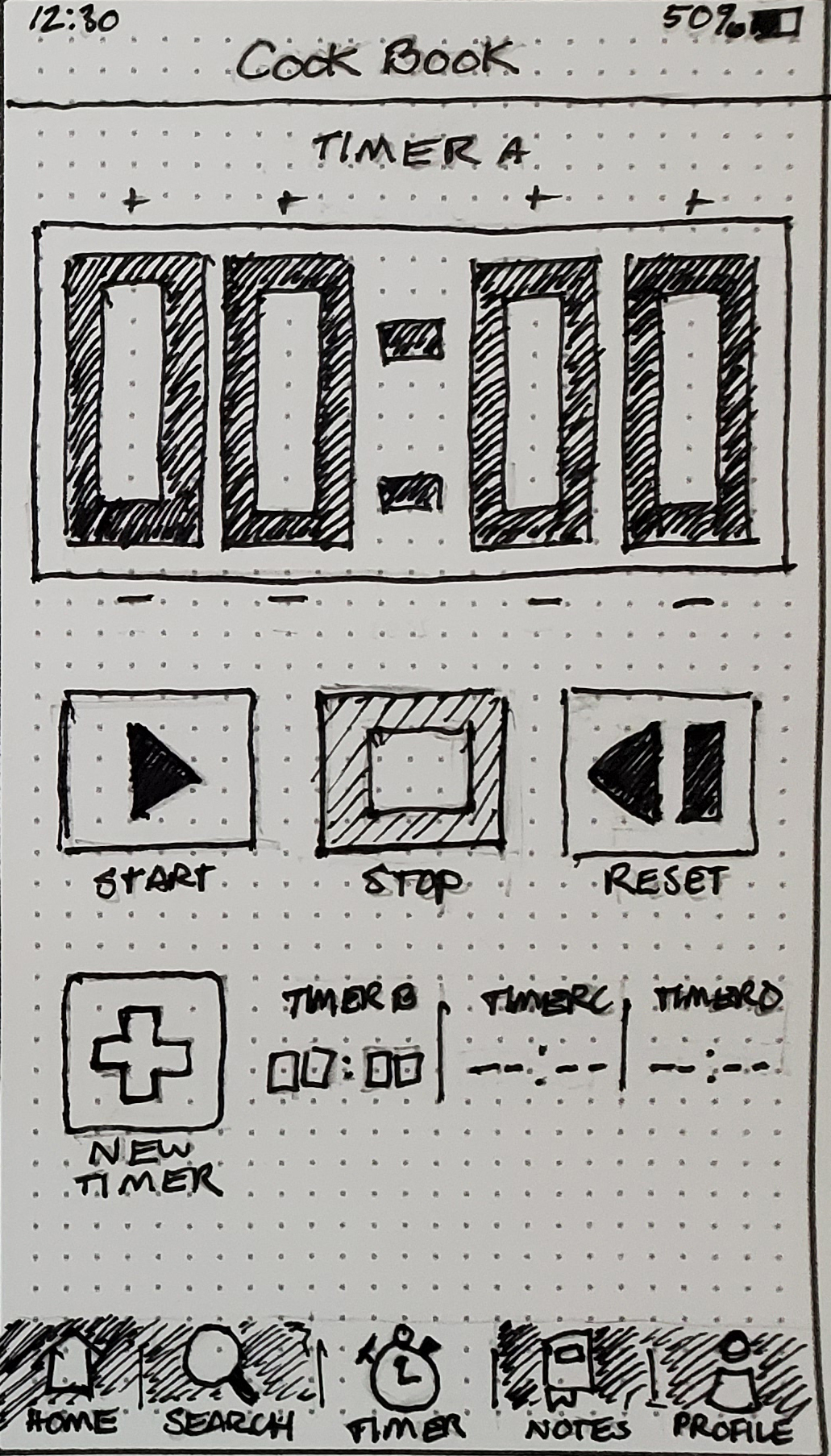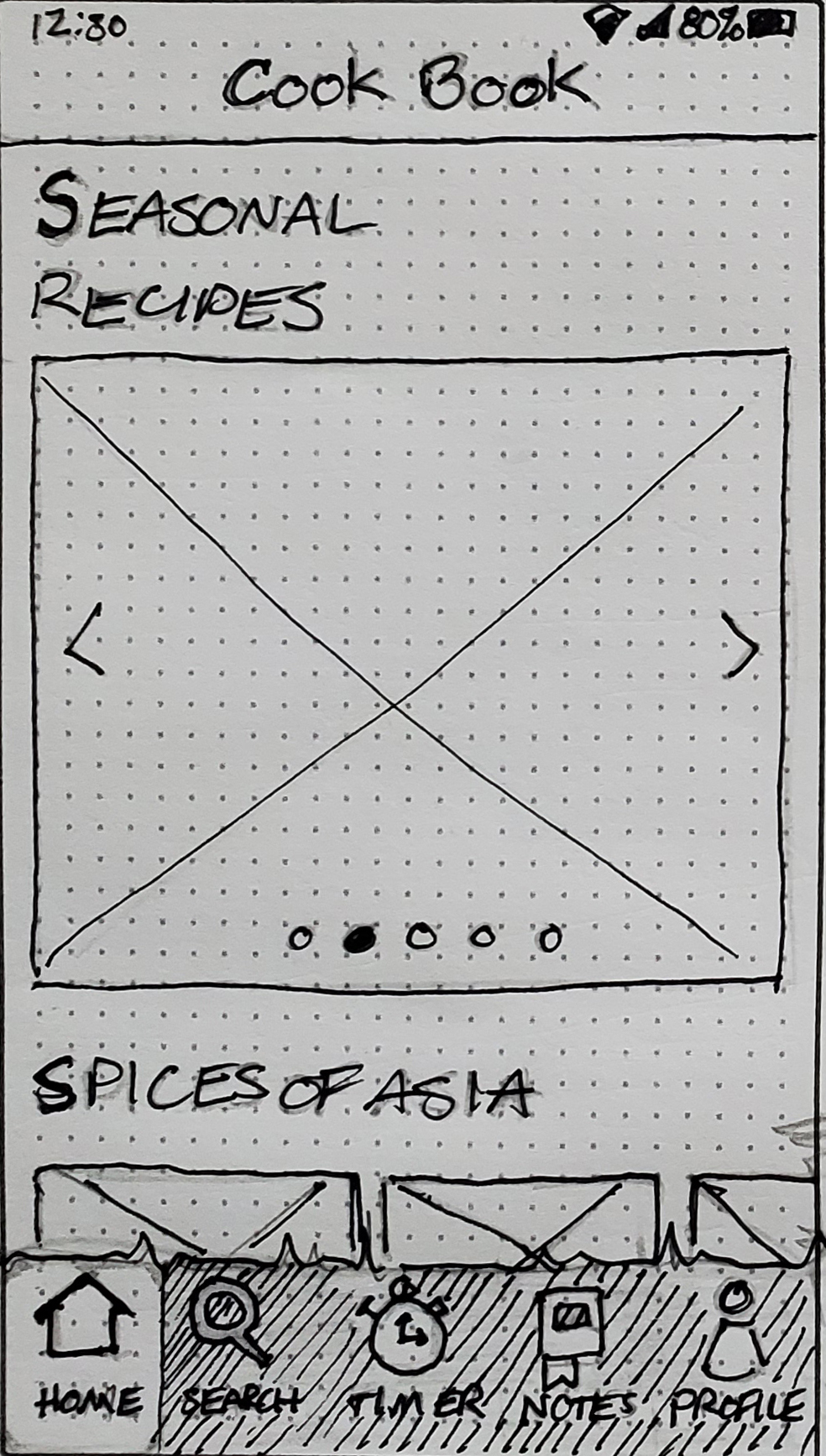 UI Design
I drew upon the aesthetic of the Swiss "International" design movement for inspiration on Cook Book. The simple and effective use of sans serif typography, paired with bright and bold colors that complement the pictures of the food, mirror the design intentions behind the movement: cleanness, readability, and objectivity.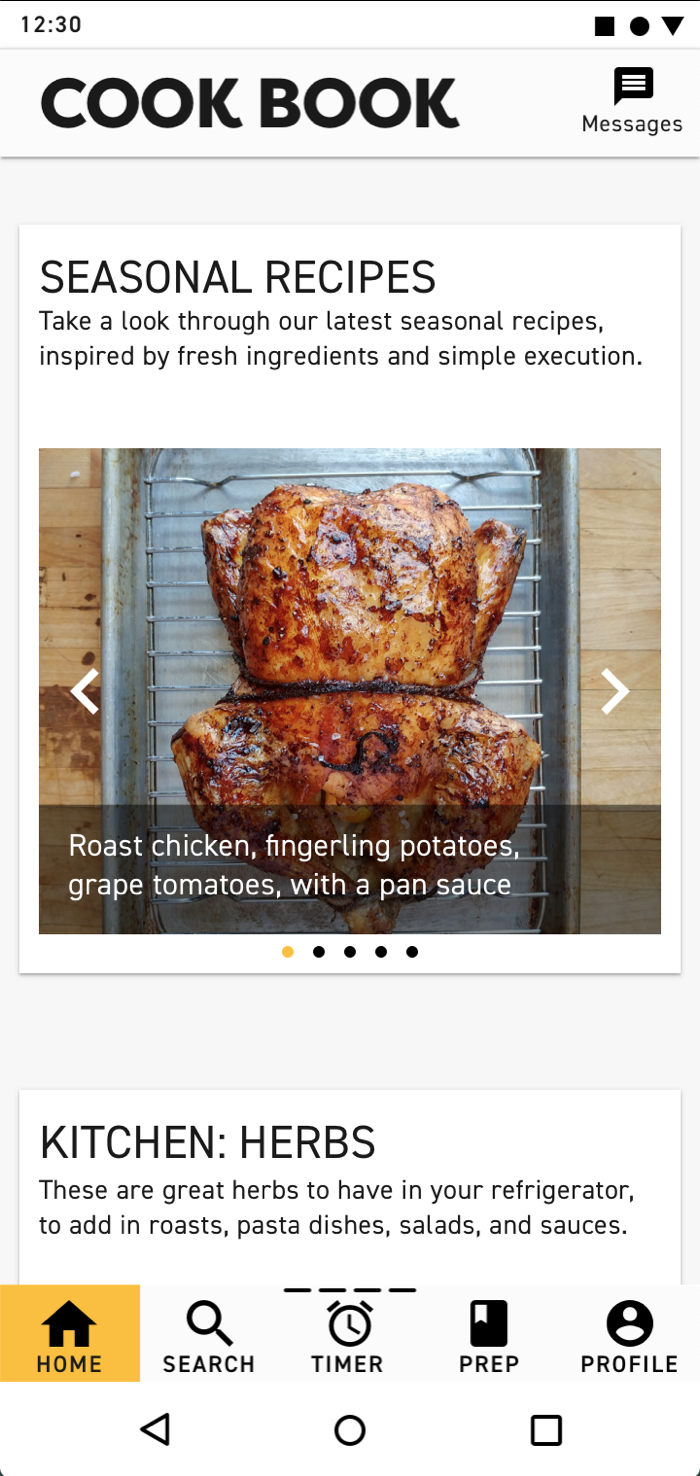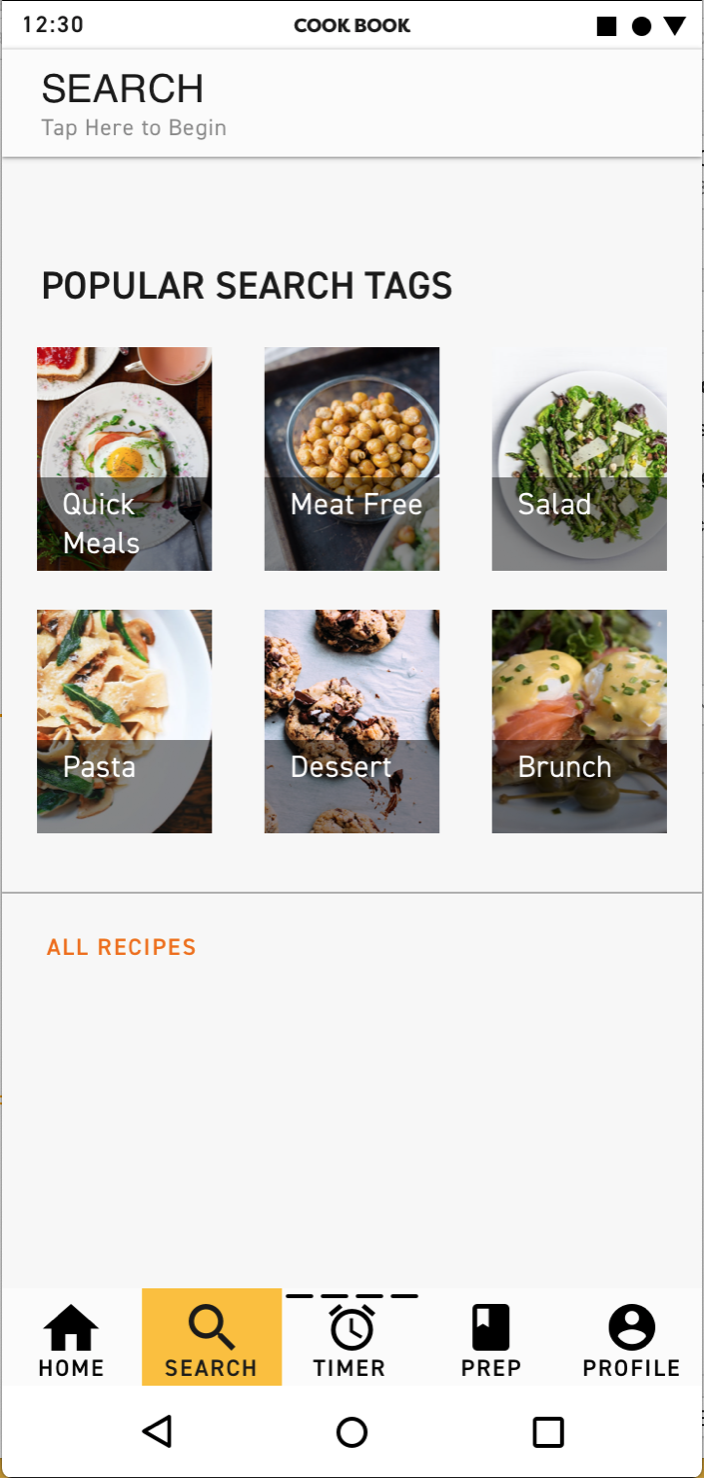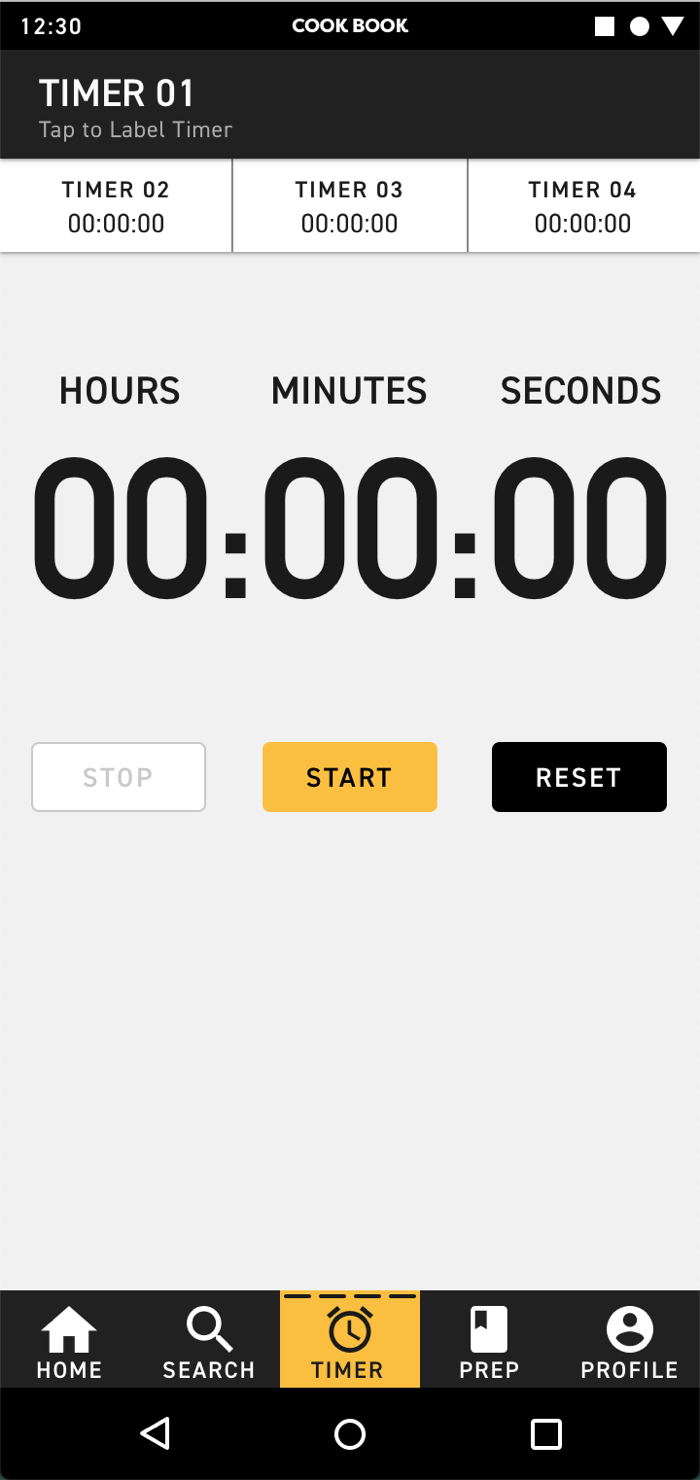 User Testing
Click here to try the Prototype
I conducted two rounds of usability tests with 5 participants per round, for a total of 10 different people.
The participants were given various tasks to complete: sign-in, search for a recipe, make a grocery list, and set a timer within the app.
The goals of each task were to test the functional design of the app and how well the user was able to learn it and make it work for those goals, as well as identify any unforeseen errors.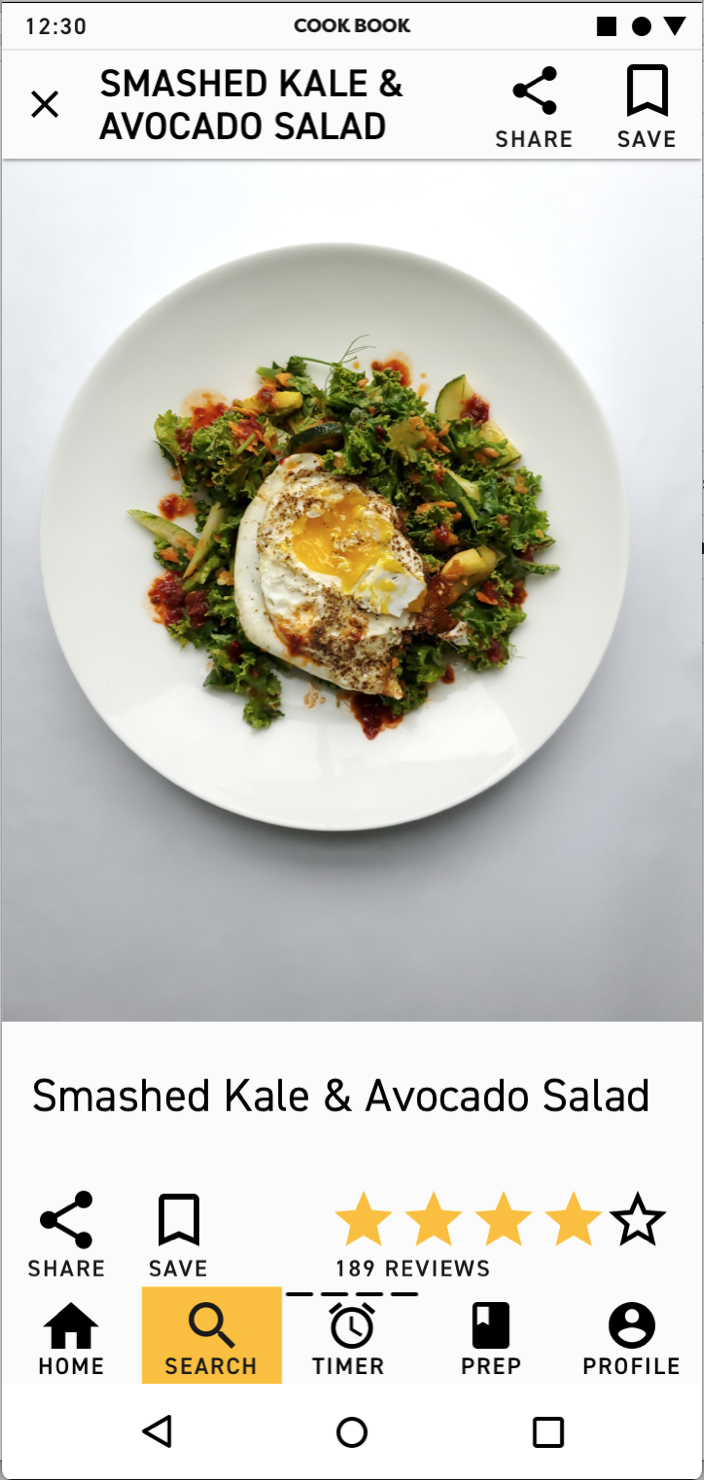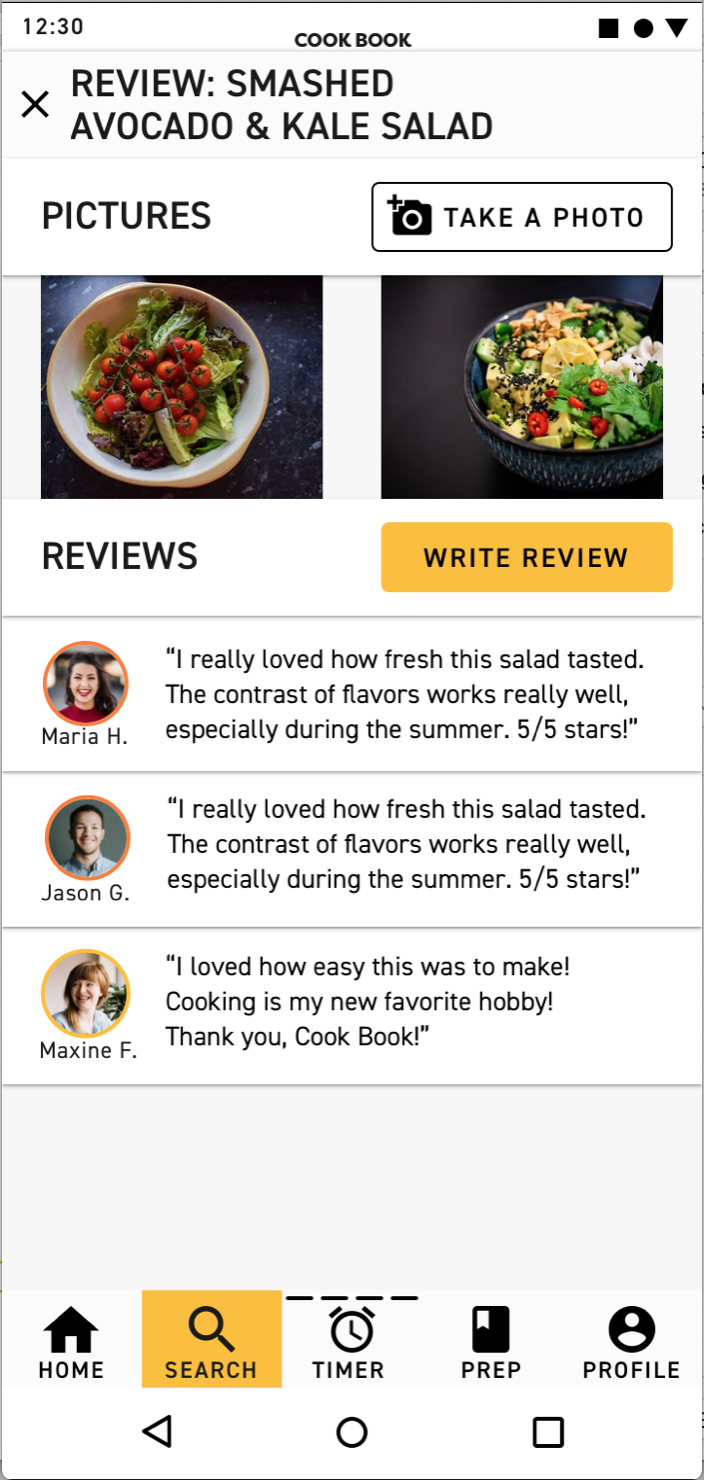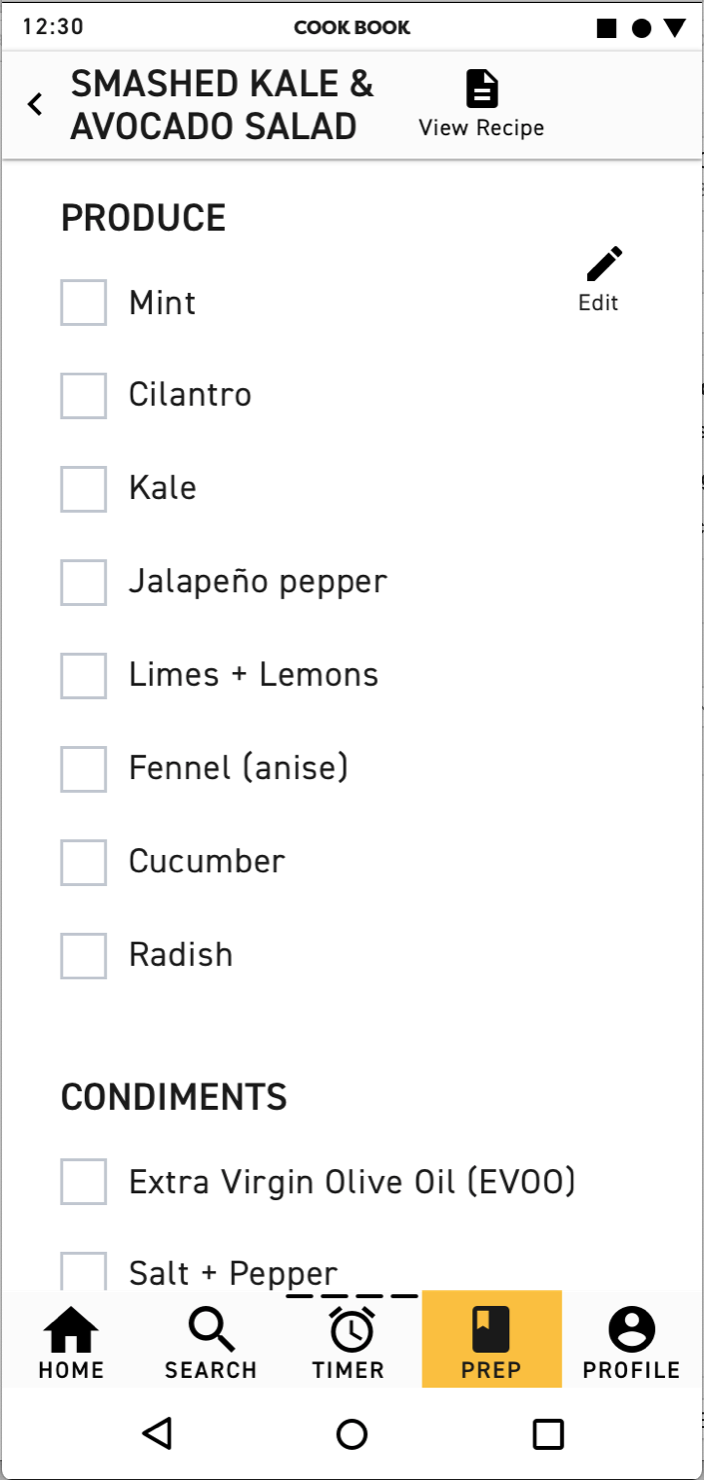 Flush Out Features and Create a Community
My next round of iterations would include an updated user flow and wireframes to include a community aspect (eg, sharing/sending recipes, lists, and messages). Rework the Timer and Unit Convertor tools to be integrated together. Build out the cookbook feature for the user.
Takeaways
My biggest learning experience came from building out my persona, Maxine.
Organizing my notes, synthesizing my findings, and reducing all of my data into core pieces, to then use those pieces to build the character framework for Maxine was hard for me. I didn't know how to build empathy to bring my insights to life and that frustration drove me insane with motivation.
I overcame this problem when I realized that my data simply serves as inspiration for the character of my persona. Using artistic license, I created a persona that included my insights, while also a character frame that allowed me to reveal who Maxine was.